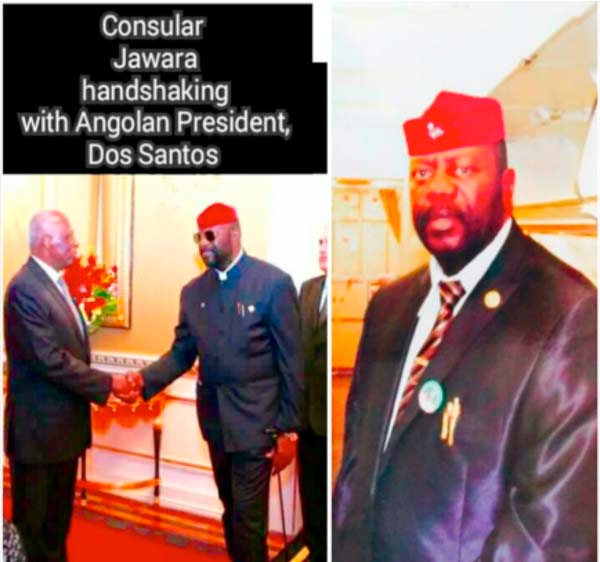 In an exclusive interview with The Point newspaper, the Consul General of The Gambia (C.G.G) in Angola, Hon. Haggi Jawara, speaks about the new government.
Please follow the interview in this question and answer format:
The Point: First of all, can you please tell our readers who you are?
Consular General: My name is Haggi Jawara, and I am the Consular General of The Gambia in Angola. I left The Gambia for Kinshasa, Congo, in 1980 and stayed there for 10 years.
Then in 1990, I moved to Angola, there I started a small business. Gradually as the years pass by, I became a bigger business tycoon setting up a company called The Samuga Limited, where I employed many Gambians, Malians, Guineans and Angolans as well.
By then, Angola did not have diplomatic relations with The Gambia. So I decided to call on the Gambians to register and unite under one umbrella to form the Gambian community in Angola, headed by myself.
We used to contribute to help address the issues of Gambian expatriates in Angola, especially those who were arrested and left to languish in detention centers for lack of proper documentation. Some would even get so sick had we not intervened they would have died there.
In Angola, if you are arrested for lack of documents, you are usually sent to detention camps, where you are left to languish for as long as money has to be put on the table for your repatriation to your home country.
Otherwise, some years are spent in these prisons with no family or help from anyone. As a Gambian compatriot, I voluntarily used to contribute my own money together with the likes of Solo Darboe, Muhammed Jabba, Nchilla, Alagie Foday Jabbi and Alagie Tamba Jabbi, to negotiate and pay for many Gambians stranded in these detention camps to be repatriated, rather than to leave them to suffer in those dire horrible conditions. I still support the Gambians there, and I will continue to support them.
The Point: What was the reaction of Gambians in Angola regarding Adama Barrow's victory?
Consular General: Yes, the Gambians in Angola reacted happily upon hearing of the victory of Adama Barrow. Bulls were slaughtered for a party to celebrate Adama Barrow's election victory.
The Point: What are some of the most pressing issues you would like to see addressed in the interest of the Gambian community in Angola, with the advent of the new government?
Consular General: Yes, that is a very important question. We are appealing to the new government under President Adama Barrow to write letters to his counterpart, President Dos Santos, to legalize Gambians in Angola because many are yet to get residence permit, which is very important.
The Point: What are some of the problems faced by Gambians in Angola?
Consular General: Lack of registration. Up to now, I don't know the number of Gambians living in Angola because some have not registered. Recently, I had to put in my own 10,000 dollars single handedly to pay for their registration when they were caught by police.
The Point: What businesses are Gambians engaged in in Angola?
Consular General: They are shop owners, while others are into importing. Myself, I have a business there, and many people work for me, including Gambians. But with the new coalition government coupled with the fact I'm a businessman, I have plans to come and invest in The Gambia, my country. In fact, I already have container shipped on the way to The Gambia.
The Point: How did you become the chairman of ECOWAS in Angola?
Consular General: I used to fight for the liberation of many Gambians and other ECOWAS expatriates, who were imprisoned for lack documentation. On a daily basis close to 40 West Africans are arrested for failing to produce documents.
Even pregnant women are arrested too. Just recently, I had to pay my own 10,000 dollars to rescue some Gambians held in prison. There was a time when 220 Gambians were to be deported by the Angola government to The Gambia. I had to leave all my work and busy schedule to accompany them, because they are my people and I have to fight for them.
I decided to consult with lawyers and wrote several letters to the ministry of Foreign Affairs, Interior and Office of the President in Angola to voice out my total disagreement and frustration over these happenings.
My efforts paid dividends after so many attempts, as the president of Angola, Dos Santos, in line with my opinion decided to bring a halt to the arrests of persons with or without documents. I have done a lot for the Gambians and West Africans in Angola. Consequently, I was offered to be the chairman of ECOWAS in Angola.
The Point: Which means you are also calling on the new coalition government to continue to support you?
Consular General: Yes., thank you very much! I am also calling on Barrow's government to continue to support us even more. That's why I together with a 35-man delegation came to pay a courtesy call on President Barrow to show our solidarity and support to his government. I will also attend his inauguration on 18 February as our new president, on behalf of the entire Gambian community in Angola who cannot make it here?
The Point: What advice do you have for Gambians?
Consular General: It is to represent and support the new government and abide by the law and respect for human rights. We should also be careful with too much democracy. When we say democracy it means to do what's good and morally accepted; not use it to commit evil deeds and offences.
The Point: What advice do you have for the new government?
Consular General: I appeal to the new government to reduce the price of hajj for Gambians. The Gambia's hajj price is relatively more expensive compared to other countries.
It is even cheaper to go for hajj in neighbouring countries. The Gambia being a small country with many poor people, why? In the name of Allah, I appealed to the Barrow regime to try and see this problem solved. Maybe the ex-government was doing whatever they wanted, but this new government should look into it and have sympathy for the greater poor Gambian people to reduce the hajj price.
The Point: What are your last words?
Consular General: We all know The Gambia has suffered for 22 years, but now everything has changed. I thank God for the new government, and I pray for The Gambia and the new President Adama Barrow.
As a Gambian living in Angola, I am very happy for the restoration of peace and democracy in The Gambia. The will of the people has been respected. The Gambia has decided! We have to be united, as united we stand and divided we fall. Long live The Gambia!
Read Other Articles In Article (Archive)