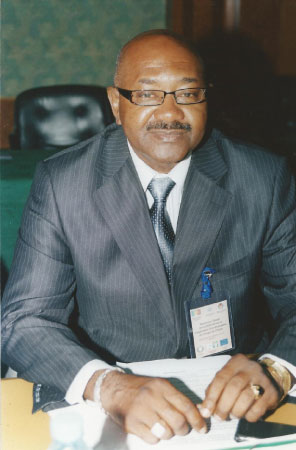 Following the election of Abdou M.C. Jallow as president of the Gambia Football Veterans Association at a congress held recently, in which he won massively, Jallow is set to take over the presidency for the coming years in the country.
Mr Jallow is also the president of the Union of Zone II veterans, which has its Secretariat in The Gambia.
Speaking to Pointsport on Tuesday at the GRA office, Abdou M.C. Jallow expressed his delight over the leadership entrusted in him by the association saying: "I have to thank God, its not my creation but a thing being destined by God and also it is the voice of the people who have the confidence in me to lead them to develop sports further."
Jallow said he had held the position of the vice president during the previous executive, adding that due to the confidence the association has in him, the members felt that if he became the president of the veterans association, a "massive difference" would be achieved during his appointment.
Jallow said they had gone through difficult moments since the commencement of the association, "but through dedication, commitment and hard work, we were able to seek avenues where we could talk to people on how to get funds to develop sport".
He said further: "I thank the head of state who is our chief patron for supporting our activities. We were able to participate in other activities through his intervention, as well as other stakeholders."
He noted: "As a president, you have to work much harder to leave a legacy that people will remember. The former president did extremely well with the help and commitment of the executive members."
Jallow, a veteran player who participated in both local and international games for The Gambia, said that with the support of the executive, he would deliver to the best of his ability.
His executive members know and have the background on how to run the affairs of the association, Jallow said, adding that the newly elected executive has just begun conducting their meetings discussing the way forward of the association.
The football veteran, who won the most discipline team award in 2011 in Mali as part of the Zone II veterans tournament, is also expected to go for yet another outing to be hosted in Senegal by the end of the year.
The other executive members of the Gambia football veterans association are Alh ML Conteh, vice president; Essa Faye, secretary general; Sankareh Jawo, assistant secretary general; Abdoulie MB Jallow (alias Star Jallow), treasurer assisted by Babou Senghore;Momodou Lamin Samateh, social secretary; Nancy Lewis, assistant social secretary, and Habib Mboob internal auditor.
Read Other Articles In Article (Archive)