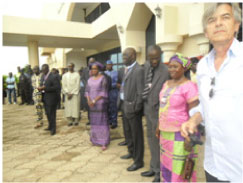 As part of promoting tourism in The Gambia and to sell the destination to the outside world, tourism stakeholders yesterday witnessed the arrival of the Corendon International Airline with one hundred and eighty-nine passengers on board,at the Banjul International Airport.
The arrivals, who included investors, journalists and photographers, were received at the airport by the Minister of Tourism and Culture and senior officials from her ministry.
Speaking shortly after the landing of the aircraft, Fatou Mass Jobe-Njie Minister of Tourism and Culture, said they are going to increase the arrivals this year and are hoping with 'Corendon "we can grow our arrivals".
She said the more arrivals the country have the more jobs will be created.
The minister urged the tourists to tell people in Holland about The Gambia and its tourist destination, after their experience in The Gambia.
Minister Jobe-Njie told journalists that her Ministry is working with other airlines which will also sell The Gambia.
"We are fully prepared for this coming season and last season the arrival has grown up to 51 per cent and it was a resounding success because last year we had 195 arrivals and this year it will be even better," she said.
The Tourism Minister used the opportunity to thank The Gambia International Airline and the Gambia Civil Aviation Authority for a job well done.
For his part, Atilay Uslu, CEO of Corendon International Trade, said this was the first time his aircraft had come to The Gambia to see if it would start operations in the country.
This is a marketing flight, he said, adding that the flight came with different newspapers and television journalists, as well as photographers, to see The Gambia and sell the country when they go back.
"The airline comes three times per week and November 1 we will start full operations," CEO Uslu said.
The airline and its passengers were to return after being in the country for 24 hours.
Read Other Articles In Article (Archive)