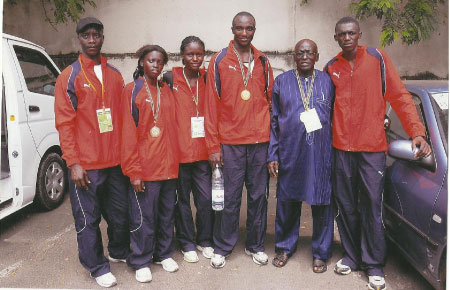 The Gambian athletes that took part in the just-concluded ECOWAS junior championship in Abidjan are said to have made a national and season best junior record for reaching the finals in all the events.
The four athletes - two males and two females - who competed in the men's 100, 200 and 800metres and in the women's 100, 200 and 400 metres, won a total of five medals.
This includes 2 gold, 1 silver and two bronze medals jointly won by Adama Jammeh, Ginna Bass, Omar Jammeh and Hawa J. Jallow amid 178 athletes from 12 countries.
The president of the Gambia Athletics Association (GAA), Dodou Capi Joof, who travelled with the team alongside a national athletic coach to Abidjan, is elated about the athlete's performances.
He said: "I am really proud of the performance of the athletes as their president, and as the organizing delegate of the competition, witnessing the national anthem of The Gambia being played twice as champion of the most popular event in Africa and our region, especially with the participation of Ghana and Nigeria."
Mr Joof added that he has no doubt that with more training and exposure the athletes can meet the minimum qualification standard for the 2012 London Olympics Games.
The junior championship was held between 3 and 5 April 2012.
Meanwhile, reacting to a report in the Tuesday edition of The Point, GAA's Capi Joof said "there is no Gambian athlete who is disqualified" from partaking in the World Junior Championship in Barcelona because of age.
"Adama Jammeh is qualified to compete in the World Junior Championship," he said.
The GAA is now trying to raise funds for the allowances of the coach and athletes, as the IAAF "are only responsible for payment of the accommodation and air tickets of the athletes".
Read Other Articles In Article (Archive)