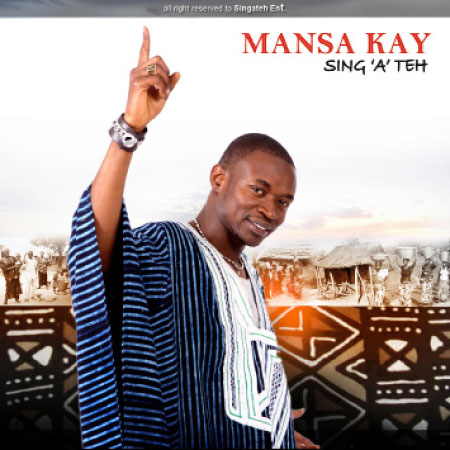 The Gambia's reigning and topflight reggae king Freaky Joe has taken the Gambia music industry into another level by launching the long-awaited album expected to make waves in the country and the sub-region.
The album entitled "Mansa Kay" will be launched on 25 May 2012 which will coincide with the President's birthday and the African Liberation Day Celebrations, at the Sun Swing Hotel (formerly Jerma Beach Hotel).
The highly anticipated album includes 12 brilliantly done songs, which touch on different topics of both local and international paradigm.
"The album pays homage to the leadership of our motherland; it advocates greater support for women and the youth, and extols different stories of love and unity," Singateh said, adding: "I am grateful to the artistes, such as Jalex, Benjamin, Balla Ranks, Jali Neneh Suso, Cess and Rugie, who were featured in the album to help me relay these stories and messages."
Singateh said further that the launching event shall be staged with a live band (the Holy Family Band) and also a lineup of other Gambian artistes, such as T. Smallz, Gee, Lamin Saho, Jali Kebba, Jali Madi, Baddibunka, Mandinmorry and ENC.
"This is going to be an explosive moment to link up with the artistes, my fans and lovers of homemade music," Singateh says.
It would be recalled that Singateh has released 3 albums already, and has also travelled far and wide meeting producers and doing shows. Asked about how different the Mansa Kay album is from the previous ones, he said: "My travels and connections have enabled me to grow as an artiste, and recently as a producer, so ultimately to the growth of my music too; this is manifested in Mansa Kay."
Singateh concluded by calling on all lovers of good music to attend the event on 25 May 2012 at the Jerma Beach Hotel and thanked Music-O Records for their partnership in the launching drive.
"The album is a must-get, because it serves all tastes," Singateh called on the public for patronage.
Read Other Articles In Article (Archive)