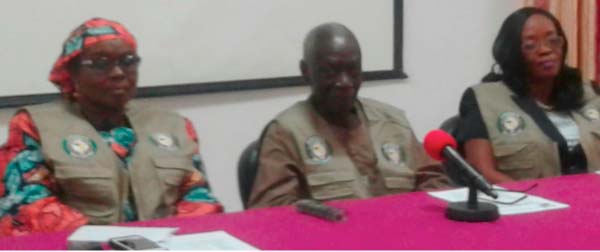 The observers of the regional economic bloc, ECOWAS, have rated Gambia's recent legislative elections, which gave new president Adama Barrow an overwhelming majority, "transparent".
"In the polling units visited, polls closed at the stipulated time of 5 p.m. The vote counting and tallying processes were carried out in a transparent and professional manner, in full view of party agents, observers, and security agents. More importantly, the cooperation between the electoral officials and party agents was impressive," ECOWAS said in its preliminary findings.
Dr. K. Afari-Gyan, Head of the Observer Mission, said that the elections were free, fair and transparent but the Gambian authorities should work on holding the presidential and parliamentary elections simultaneously to counteract voter apathy.
He made this remarks during a press conference held on Friday at Sea View Hotel, Kololi.
The coalition of Gambia civil society organizations has also described the polls as transparent despite a few incidents.
Gambians went to polls on Thursday and four of the seven political parties backing Barrow have won 42 out of 53 seats in the country's National Assembly.
The election, which attracted a low turnout, represents the first poll since the fall of Yahya Jammeh in the 2016 Dec. 1 presidential elections.
The regional bloc has also urged the local authorities to consider holding both legislative and presidential elections on a single day to avoid mass voter apathy.
ECOWAS also recommends mass voter education by political parties ahead of polls, adding that despite, "smooth conduct of the exercise, the mission however observed a relatively lower turnout".
"Furthermore, it may be expedient in the future to consider holding both legislative and presidential elections on the same day in order to minimize the cost of organizing elections and addressing the issue of low voter turnout," the regional bloc said.
"In the light of the low voter turnout observed in the field, the ECOWAS EOM recommends that ahead of future elections, the IEC and political parties should put more effort in to educate and sensitize the citizens on the importance of active participation in all national elections."
Barrow's party from which he resigned to contest as an independent presidential candidate, the United Democratic Party, won 31 seats, while other 3 parties within the coalition won a total of 11 seats, giving them 42 seats in total.
Former president Jammeh's Alliance for Patriotic Reorientation and Construction (APRC) party won 5 seats all in his native region of Foni in the Western Region of Gambia.
While the opposition Gambia Democratic Congress party won 5 seats, leaving 1 seat to an independent candidate.
A Gambian political commentator, Sidi Sanneh, said the poll results have shown that the country's, "transition to democratic rule is on track despite having suffered 22 years of brutal dictatorship."
The results show a sharp decline in the popularity of the APRC from being the majority in the National Assembly to one of the minorities.
Read Other Articles In Article (Archive)