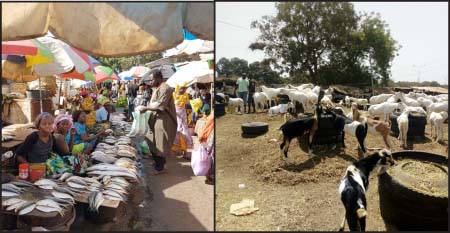 Scores of businessmen and women in the country have expressed their total dissatisfaction and condemned in the strongest terms the much-talked about Operation 3 Years Jotna group; the pressure group that demands President Barrow to step down after three years.

This has come days after the Office of the Inspector General of Police announced that it had issued a permit to the pressure group to protest in line with the constitution of The Gambia.
Speaking in an interview with The Point, Mariama Mbowe, a business woman in Bakoteh said it would have been better if both parties dialogued and addressed the issue amicably.
"It would be better if they take it easy because protest is not good for any country," she said.
She added that people should just go by what is stated in the constitution and not create any problem in the country.
"This group knows what is written in the constitution but they just want to go out and to cause commotion and spoil people's properties," she lamented.
Jainaba Suso, a fish vendor at the Bakoteh market, also called on Gambians to forget about the issue of Operation 3 Years Jotna and work towards the development of the country.
"If this three years problem starts, it is just going to affect our businesses," she said
Suso indicated that the Operation 3 Years Group should just forget about the protest and see how best to maintain peace and develop the country.
She thus called for more dialogue and to contribute towards the development of the country.
Another concerned citizen, Binta Sidebeh stated: "We at the Serrekunda Market are not part of the Operation 3 Years Jotna because all our hopes are in this market and if the 3 Years Jotna embarks on protest, it would have a devastating impact on our businesses," she said.
She explained that it is from the sales of their commodities at the market that they use to pay for their children's school fees, further calling on all to join hands in the national development crusade rather than issues that would hold the country to a standstill.
Baye Joof, a mobile technician at Serekunda said that: "Though I understand that the coalition agreed on three years, but, however, the constitution says five years. So I just want to advise the Operation 3 Years Jotna group to bear that in mind and allow President Barrow to go for 5 years," he said.
Joof reminded that "we all have exercised patience during the 22 years of dictatorship of President Jammeh, so why not still exercise the same patience in the remaining 2 years now.
"There is need for more dialogue between the President and the Operation 3 Years Jotna group so that peace can continue to reign in the country. Peace is crucial and in any meaningful development. If you see us engaging in businesses; it is because there is peace in The Gambia," he said.
Ismaila Touray, a steel fabricator and an electrical engineer, said that any person who thinks well or has ambition should distance him or herself from the Operation 3 Years Jotna group.
Touray described members of this pressure group as people who don't have the interest of the country at heart, judging from what they want to do.
"I believe that anyone who thinks very well and has an ambition will never be part of this group (3 Years Jotna). Because if people understand where problems normally start then no one will get involved in this protest," he stated.
According to him, it seems this pressure group wants to play with the Gambian people, adding that Gambians shouldn't allow that to happen.
Omar Bah, meat seller in Abuko, expressed similar sentiments.
"We at Abuko Abattoir are not part of the 3 Years Jotna and we will never be part of it because we come here every day to look for something and provide food for our families. We don't even want to hear about 3 years," he declared.
According to him, they at the central abattoir really hate this group because all what they need in the country is peace, adding that Gambians have been so patience during the 22 years of brutal regime of President Jammeh.
Baye Fafa Bah, a cattle dealer at Abuko, said that the issue of 3 Years Jotna has already started to cripple the business environment, citing that some of them as businessmen are even afraid to come to the abattoir because of this protest.
Yankuba Marong, timber businessman, called for all to go by the Gambian constitution, which says five years.
"However, the reason why I am not that much against 3 Years Jotna is because they also have right to protest because President Barrow first agreed to stay in power for 3 years," he added.
Meanwhile, one Sheriff Ceesay, diasporian, and a member of Operation 3 Years Jotna, has called on Gambians to come out and rally behind the movement. According to him, he has arrived in the country to take part in the Dec. 16 'peaceful protest.'
"My family and I are behind the Operation 3 Years Jotna," he declared, adding that his son was among the authors of the movement's correspondences.
Mr. Ceesay explained that Dec. 16's protest is going to be peaceful as they intend to hand over what he called the petition to the president. He added that a response is expected from President Adama Barrow by January 19, 2020, and if he fails, another demonstration will be staged on January 20.
Read Other Articles In Article (Archive)