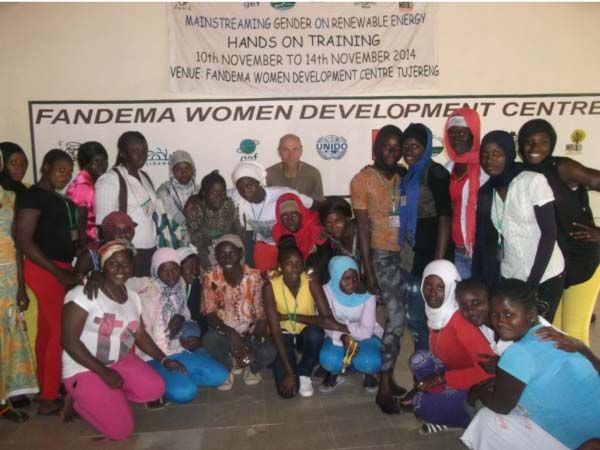 (Issue, Tuesday 31st March 2015)
The Fandema Women Development Centre project called "Mbollow" Association of Tujereng village West Coast Region, a renewable energy project, has reaffirmed its stance to contribute its quota to national development through empowerment of women and girls.
The project, which currently shelters 80 young women and girls in various fields of interest, has so far graduated 30 students who are currently in the market.
It provides free tuition for girls enrolled in the project, which gives chance to needy students to learn skills in various areas of interests including tie and dye, batik, cookery, cosmetic, renewable energy (RE), sewing and electricity solar installation, as well as welding.
Speaking to the founder, Malang Sambau, at a site visit recently by the Global Environmental Facilities, United Nations Industrial Development Organization, GEF/UNIDO project, said the project is operating with a full 100 per cent Renewable Energy power supply.
The project was initiated since 2009, which was primarily to upgrade the living standard of women and girls in the communities, he said.
It was also geared towards poverty alleviation and creates awareness for young and women to get access to information technology and to have skills that could help them end up with good business plan, he said.
"The studies help the girls to emerge with a business plan and a small loan with which to kick-start the business after graduation," he said.
He however said the project suffered from fire outbreak, which had been on recovery since 2012.
According to Mr Sambou, after completing his overseas studies, he decided to invest back in his home village to help improve the lives of women and girls to realize their dreams, adding that they initiated the renewable energy skills acquisition, on which a good number of girls are training.
He said the foundation has solidarity-revolving fund that supports all the approved business with a 5 per cent interest.
Mr Sambou disclosed that the project has 8.3 kilowatt of RE which has saved a huge amount of money for the users.
"The project is planning to have a 20 kilowatt in the future, which would enable them get safe and excess energy for sustainable energy supply," he said.
A student beneficiary, Fatou Sowe, revealed that she had learned a lot about art and craft, adding that it was later elevated to tie and dye, and cookery.
Fatou Joof, also a student, who was trained on tie and dye, cookery and sewing, revealed that  the course is free, adding that she has been in the project for one year and nine months and hoped it would make a difference in her life and her family when she start business at the end of her studies.
Read Other Articles In Article (Archive)