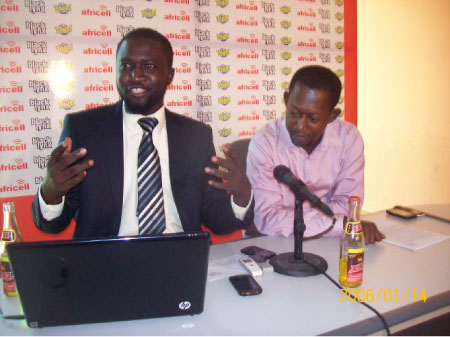 Come December 28 the Independence Stadium is expected to shake the country as musicians and their fans will be there to celebrate the event, proudly sponsored by Africell and Youki.
Speaking at a press conference held at Afri-Radio Conference Hall Waagan and Francaise Abdul Mendy said the annual Open Mic Festival and the monthly Open Mic continue to provide the biggest live audience platforms for recording and performing artistes in The Gambia.
The Open Mic has impacted urban Gambian music predominantly over the past fives years and as an event, served as the blueprint for most local concerts. It is also responsible for giving urban Gambians its greatest gift, hope that careers can be built and livelihood earned by pursuing one's passion for the art of music.
According to the organizers, the annual exposition is limited to not more than a dozen performing acts out of a possible thousand and this eventually culminates into an annual race for spot on the Open Mic Festival performance list. This has enhanced the spirit of competition and has encouraged artistes to work even harder in order to be more visible.
They added that the music renaissance has swept across the nation like a tidal wave and its rippling effects have crept into the hearts and minds of tens of thousands of young people.
The fact that young people have gravitated towards and are greatly endeared to urban Gambian music is due to the intensive promotion that has been going on for the past five years.
Artistes that are expecting to perform at the festival include Mandingmorry, Gee, Trobul Small, Jali Madi, ENC, Bro K, Vypa, ST, Papa Lenghty, Mighty Joe, Magnificent Job, Slam G Clan, and Rebellion The Recaller.
Read Other Articles In Article (Archive)