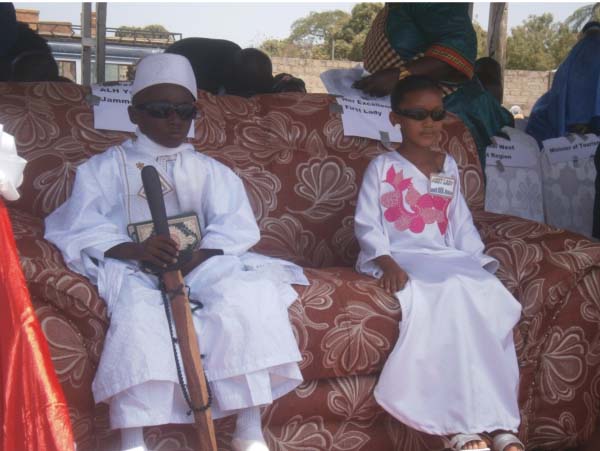 (Issue, Tuesday 31st March 2015)
Early Childhood Development Association of Brikama over the weekend observed Gambia's 50th independence anniversary at a ceremony held in Brikama the West Coast Region.
The celebration brought together schoolchildren from various nursery schools who participated and some acted as President, Vice President, the First Lady, state ministers, service men and women, imam and pastor.
Dawda Sillah, a 7-year-old boy from Presentation Merry Nursery school in Brikama acted as President Yahya A.J.J. Jammeh.
Fifty different nursery schools with their teachers within the West Coast Region participated and conducted a march-past together with the scout bands of Sanyang and some police officers.
In his statement, Dawda Sillah of Presentation Merry Nursery School, who acted as the Gambian leader, expressed his gratitude to the First Lady, VP, Honorable Ministers and all other dignitaries and students present at the event.
President Sillah further said the occasion marked another important day in the history of The Gambia as the occasion was being cerebrated.
"Therefore, I ask all of you present to join me to thank the Almighty Allah for the 50 years of peace in the country," he said.
Sillah stressed that the country would never be colonized twice, as "the Almighty Allah would continue to guide us as a country with one people".
"We as a nation we will never tolerate or compromise with terrorism by the grace of the Almighty Allah," he stated.
"Tourism has no place in this country," he emphasized.
He also challenges Gambian people not to see the Vision 2016 as the president alone but as everybody's business and together, "we could make it".
He urged everybody to work towards Vision 2016, as there would be no importation of rice starting from 31 December 2015.
President Sillah also emphasized the need for people to go back to the land and "grow what we eat" and "eat what we grow" as a nation, adding that agriculture is the fastest way for economic growth and development in any nation.
He concluded by praying to the Almighty Allah, for continued guidance and prosperity of the country.
"Long live The Gambia and long live the people of The Gambia with peace and stability," he concluded. 
Read Other Articles In Article (Archive)