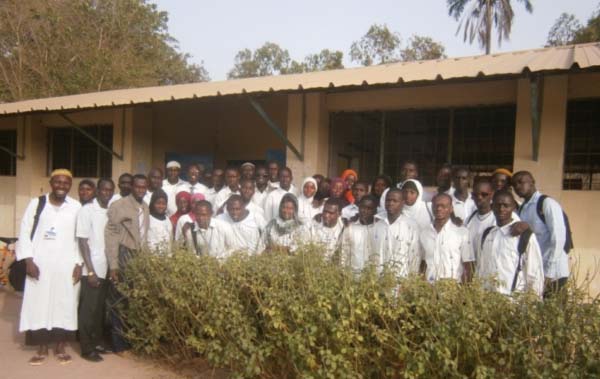 Family Gambia, a charity organisation, has started a pilot project dubbed 'Peace Education' to train Arabic students on verbal and phonetic English language knowledge.
The project, which is being implemented in The Gambia, Liberia, and Sierra Leone, is aimed at ensuring that Arabic students are nurtured in another language other than Arabic.
Through the project, Family Gambia on Tuesday started to train more than 40 Arabic teacher-trainees of the Gambia College Arabic PTC Department at the college campus in Brikama.
Mr Patrick, coordinator of the Peace Education, said the rationale behind the project is to help Arabic students to acquire verbal English language skills by teaching them simple tenses and phonetics of English.
"This training programme will greatly help them (Arabic teacher-trainees) to transfer the knowledge to those students they will be teaching in the future," he said.
He noted that the students have shown high commitment and seriousness about the training saying it is a demonstration that they (the students) are interested in it.
Mr Patrick said that in view of the interest of the students, there is a need for Family Gambia to be conducting more and more of this type of training.
Therefore, he said, we are calling for financial support particularly from Arab Gambian Islamic Bank in order to continue training the Arabic students in English language.
"The project needs support from any philanthropists, NGOs, private sector, and government institution so that we can continue with the initiative," the coordinator said.
Mr Patrick said any money invested in the Peace Education project will not be a waste because it will be used to nurture Arabic students to acquire basic English language knowledge that will benefit them in their life career.
He said that when finances are available, they would be able to get some teaching and learning materials like tape recorders, and books, as well as more lecturers to enhance the education process.
Isatou Tambedou, administrative officer of Family Gambia, said the Peace Education project could have started since September 2013 but due to circumstances beyond their control they were unable to launch the project at that time.
She said thanks to the financial support from partners like Arab Gambian Islamic Bank, they have now been able to kick-start the project.
Abass Kanyi, an Arabic student beneficiary, said they are eager to learn how to read and write in English and how to know the sound of English words.
Mr Kanyi said more of such trainings offered by Family Gambia through the Peace Education project will be of greatly help to them to improve their knowledge of English language.
Kabba Touray, another student beneficiary, said: "I am very interested in this training programme as my English is very weak but with this training I will be able to improve."
Read Other Articles In Article (Archive)