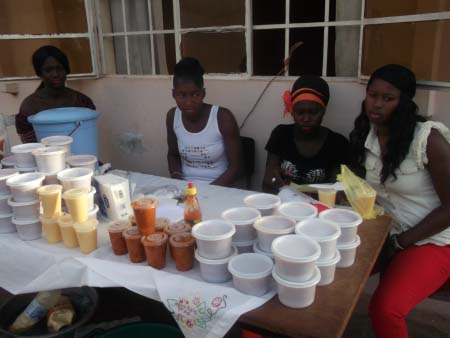 Lamin Institute of Professional Studies (LIPS) in collaboration with LIPS Ex-student Association and the community of Lamin town over the weekend organised an "Ebbeh Day" in celebration of Gambia's 50-year independence anniversary.
The initiative was led by the LIPS Ex-students Association under the leadership of Ms Mam K. Lowe.
Speaking on the occasion, the principal of LIPS Ms Princess H. Osagie said: "Celebration of independence reminds us of our integrity, loyalty and commitment to the cause of national development for economic empowerment."
She said the Ebbeh Day serves as a platform to bring ex-students of LIPS together, once again, to network, discuss as a family, and devise ways and means to further improve the teaching and learning environment of their alma-mater.
LIPS was established in August 2003 as a training institution by Daniel Osagie (BA hons), the proprietor and executive director of the institution.
The institution, located in Lamin town, Kombo North, is legally registered and accredited by National Training Authority, the regulators of tertiary institutions in The Gambia.
It provides quality higher education to the people of The Gambia in the areas of computing and information technology, travel and tourism, marketing, business management and administration at certificate and diploma levels.
The principal said at LIPS, it is compulsory for all the enrolled students to take English language proficiency course alongside their main course of study.  "We emphasised this to improve students' vocabulary and writing skills," she said.
The principal added that, so far, at least 2,000 students have graduated from LIPS; the 26th batch is about to graduate.
"Most of our graduates are gainfully employed in different organisations, some are self-employed because at LIPS we don't just impact lives academically, we empower our students for the future," she said.
Alhaji Mbemba Bojang, Alkalo of Lamin village, said his family is among the numerous beneficiaries of LIPS; as his last wife, and a daughter graduated from the institute and are now gainfully employed.
Alhaji Musa Bojang, board member of LIPS, and Alhaji Fafanding Conteh, community elder, both applauded LIPS for providing life skills development not only for young people, but also for adolescents.
They assured LIPS of the unflinching support and cooperation of the community of Lamin town. 
Read Other Articles In Article (Archive)