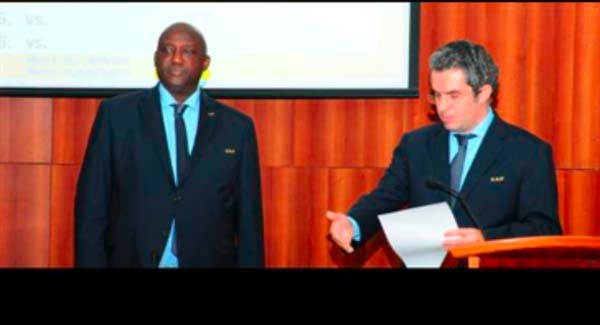 The Gambia will face neighbours Senegal in the Orange African Nations Championship in Rwanda 2016.
The Gambia is in the same group with Guinea, Guinea Bissau, Liberia, Mali, Mauritania, Senegal and Sierra Leone with only two teams set to qualify from their West Zone A.
The draw for the qualifiers of the Orange African Nations Championship Rwanda 2016 was conducted on Sunday 5 April 2015 at the CAF headquarters in Cairo, Egypt.
The draw was done based on the zonal representation of the national associations affiliated to CAF.
Forty-two (42) teams are engaged in the qualifiers that will produce the 15 teams to join the host for the final tournament scheduled for 16 January to 7 February 2016.
CAF General Secretary Hicham El Amrani conducted the draw assisted by CAF 2nd Vice President Almamy Kabele Camara, who is also president of the organising committee of the CHAN.
Also present were members of the CAF executive committee and officials of the teams involved in the qualifying phase.
The CHAN is a tournament designed exclusively for footballers playing in their domestic leagues. The first edition was held in 2009 in Cote d'Ivoire with DR Congo emerging as champions. The second edition held in 2011 in Sudan had Tunisia as winners, whilst Libya won the third edition in 2014 in South Africa.
Full Fixtures :
Northern Zone
Teams engaged : Libya, Morocco, Tunisia (2 teams will qualify)
Libya vs Tunisia
Morocco vs Libya
Zone West A
Teams engaged : Gambia, Guinea, Guinea Bissau, Liberia, Mali, Mauritania, Senegal, Sierra Leone, (2 teams qualify)
Guinea Bissau vs Mali
Mauritania vs Sierra Leone
Guinea vs Liberia
Senegal vs Gambia
Zone West B
Teams Engaged : Burkina Faso, Cote d'Ivoire, Ghana, Niger, Nigeria, Togo (3 teams qualify)
Ghana vs Cote d'Ivoire
Nigeria vs Burkina Faso
Niger vs Togo
Central Zone
Teams engaged : Cameroon, Central African Republic, Chad, Congo, DR Congo, Gabon (3 teams qualify)
DR Congo vs Central African Republic
Cameroon vs Congo
Chad vs Gabon
Central East Zone
Teams engaged : Burundi, Djibouti, Ethiopia, Kenya, Uganda, Sudan, Tanzania (3 teams including the hosts Rwanda)
Preliminary round
Tanzania vs Uganda
Djibouti vs Burundi
Ethiopia vs Kenya
Southern Zone
Teams engaged : Angola, Botswana, Comoros, Mauritius, Lesotho, Mozambique, Namibia, Seychelles, Swaziland, South Africa, Zambia (3 teams qualify)
Preliminary Round
Zimbabwe vs Comoros
Lesotho vs Botswana
Namibia vs Zambia
Mozambique vs Seychelles
South Africa vs Mauritius
Swaziland vs Angola. 
Read Other Articles In Article (Archive)