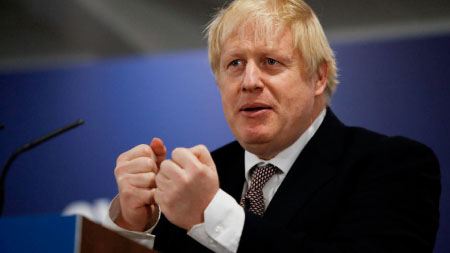 European Union (EU) officials in Brussels are demanding for a ''speedy endorsement and approval'' of the so-called ''Withdrawal Agreement'' which is the official document that outlines how Britain will finally leave the EU without further delay.

The Conservatives Party better known as the Tories won the UK's elections with a large majority on a campaigned that the UK will leave the EU. It secured an overall number of 365 MPs, the Party's Commons majority since former Prime Minister Margaret Thatcher won a third term in 1987.
Despite intense and convincing campaigning on health, education and other important services that attracted thousands of voters, the opposition Labour party was only able to get 203 MPs.
Interestingly, Johnson's campaign was focused on ''get Brexit done''.
Consequently EU leaders have congratulated the Prime Minister on his victory but asked for a speedy withdrawal. French President, Emmanuel Macron, also announced that Britain should not be an ''unfair competitor'' after Johnson's victory.
The SNP secured 48 MPs and the Liberal Democrats, a party that attracted several young voters got 11 MPs. The DUP which was part of the Tory coalition prior to the elections won eight MPs.
Smaller parties such as Sinn Fein got seven MPs, Plaid Cymru won four and the SDLP was only able to garner two.
The Green Party had only one seat prompting campaigners predicting a ''disaster on climate change'' issues.
The Brexit Party which conducted a tactical vote by refusing to fill candidates against the Tories but presented them against Labour's safe seats had caused huge damage to the opposition.
As the Tories enjoy a Commons majority, the party's biggest election win for 30 years, on the other hand, Labour suffered its worst result since the 1930s.
As a result of the humiliating defeat, Labour leader, Jeremy Corbyn, who led an interesting and challenging campaigned thank everyone and announced that he will not contest as Prime Minister again.
Nevertheless, in his victory speech earlier, Prime Minister Johnson told supporters that he represented a ''new dawn for the country''. He even congratulated opposition Labour voters that supported his party for the first time and vowed to ''fulfil'' his promise.
The Prime Minister also acknowledged that probably such Labour voters may return to their party later but added that he was ''humbled that you have put your trust in me…I will never take your support for granted''. He also said that ''it is time to let the healing begin'' and called for a ''moment of closure''.
To the massive joy of his supporters, Prime Minister Johnson repeated: ''We will get Brexit done on time by 31 January-no ifs, no buts, not maybe''.
Read Other Articles In Article (Archive)