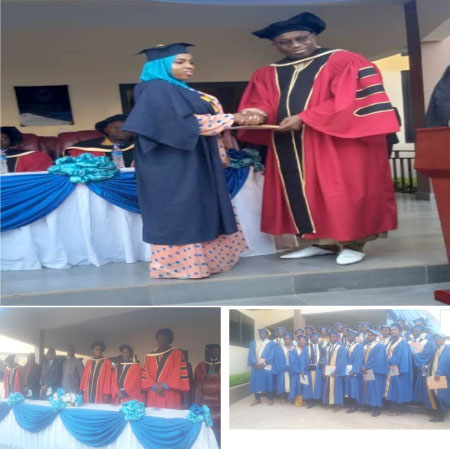 West African Insurance Institute (WAII)-The Gambia, an institution with full diplomatic status that was established in August 1978 by the governments of Nigeria, Ghana, Sierra Leone, Liberia and The Gambia, in collaboration with the United Nations Conference on Trade and Development (UNCTAD) has recently held its 40th graduation.

Held at the WAII campus, twenty-five students from The Gambia, Nigeria and Sierra Leone were certified with diploma in insurance.
Addressing the graduates, Mamburay Njie, minister of Finance and Economic Affairs, who also doubles as the chairman of WAII governing council said leadership is a key requirement for the successful management of any financial institution in global challenges and management dynamics.
"The financial crises that spread across nations in the world, is deeply rooted in the lack of leadership and management of the world financial institutions," he said.
Mr Njie lamented that quality management is an essential condition for sustainable financial institutional development and growth, while managerial skills and abilities are some of the major sources of overlaps of financial institutions in recent times, in their work to create financial fragility in their economic system.
"It is therefore heartwarming that WAII has continued to equip our insurance practitioners with the right training and managerial skills that will see them deliver on their mandate and contribute to the development and upholding the economic system," he added.
Finance and Economic Affairs minister Njie further appealed to everyone that WAII needs their support as they cannot make any meaningful impact on their economy without assistance in the area of infrastructural development, student sponsorship and patronage, adding that the strategic importance of the institute in West Africa sub-region cannot be over emphasized.
Frederick Bowen-John, director general of WAII and head of mission, said 20 examinable modules were thought during the year and a new examinable format will also be reviewed in the upcoming year.
"Examinations consist of two parts. Part A consists of 20 compulsory short questions while part B consists of 6 questions of which the students are required to answer only 3. This is all geared towards bringing WAII program course assessment procedure to a professional standard," he explained.
Mr. Bowen-John expressed appreciation to the entire academic board, chief examiners and examiners, visiting lecturers and project supervisors for their tireless efforts during the year to ensure that they deliver on their mandate within the integrity and standards of WAII assessment procedure.
"All the 25 students who were enrolled in the program have completed the course and nine diploma students received distinction, twelve students received diploma with upper credit while four received diploma with lower credit. Four students were referred during the first semester exams but were successful in the re-sit examination," he said.
He revealed that after 26 years of the supreme dominations of the awards for students with the highest scholastic achievement by students of Ghana and Nigeria, a Sierra Leonean has finally taken the mantle by winning the award of the best student for the 40th badge with an overall average of 90.36%.
Joycie Milliya Hamillen Macarly, Sierra Leonean nationality who received the 2019 highest scholastic achievement expressed gratitude to the WAII administration, saying they have been very supportive during their stay.
"We have been in The Gambia for 42 weeks. Even though I was counting on returning to my country, WAII has given us a very good experience. I remember when i was coming to the country I told myself that I am coming to the institution to acquire insurance knowledge which I have now and made my country (Sierra Leone) proud."
Read Other Articles In Article (Archive)