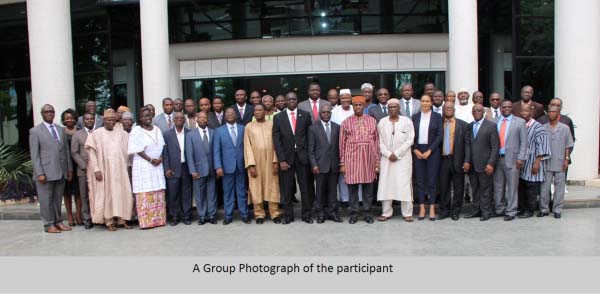 Ministers in Charge of meteorology have called for greater responsiveness to environmental issues.

At the opening of their meeting at the ECOWAS Commission on 5 August 2016, the ministers lauded all the ECOWAS initiatives geared towards ensuring a better understanding of the devastating effects of climate change on the livelihood of citizens and on the economies of West African countries.
The ministers are to adopt the report of the experts after the 12th meeting of the Committee of Directors of National Meteorological Services, which ended on the 4th of August.
Addressing delegates at the meeting, ECOWAS Commissioner for Agriculture, Environment and Water Resources, Tchambakou Ayassor, highlighted the far reaching effects of climate changes on the region and beyond
Climate change, he maintained, affects the whole world and more especially the West African sub-region.
He noted that weather forecasts suggest that the increase in average temperature in the projected period 1980 to 2080 will range between 3 and 4 Celsius and cover the entire continent envisaged to be 1.5 times higher than the global level.
The Minister of Transport of Nigeria, Rt. Hon. Chibuike Rotimi Amaechi, recalled that the reports of the implementation of the United Nations Millennium Development Goals (MDGs) concluded in 2015 showed that the increasing frequency and intensity of extreme weather events constituted a significant challenge to attaining some of the goals in Africa.
He went further to state that in the West African region, the poor performance in some aspects of the MDGs could, to a large extent, be attributed to the frequent occurrence of droughts, floods, violent storms, soil erosion and other severe weather phenomena.
He further stressed that extreme weather events have negative impact on agriculture, water resources, power generation and transmission, health, roads, rail lines and other physical infrastructure, adding that these are critical sectors for the national and regional economic development.
The minister pointed out that extreme weather events retard the pace of development, and could even obliterate developmental achievements already recorded making it important for our national development to be climate-resilient.
The secretary general of the World Meteorological Organisation (WMO) through his representative Bernard Edward Gomez, the WMO Representative for North, Central and West Africa, said that despite the challenges associated with the inability of most states to meet the requirements for the quality management system and competency assessment for the provision of meteorological services, the ECOWAS region has already taken the right steps to proffer holistic approach to climate change challenge.
He noted further that with the support of ministers in charge of meteorology, development partners and stakeholders, the implementation of the programme on climate change will significantly strengthen the resilience of populations and empower them to harness the favourable climate outcomes for sustainable development.
Read Other Articles In Article (Archive)