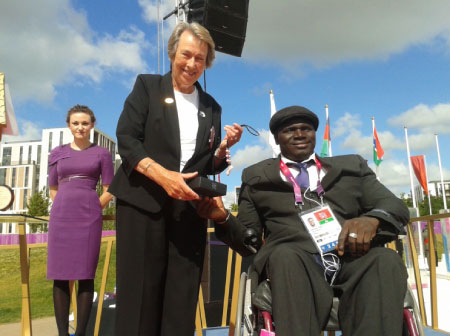 The village mayor Eva Loeffler, who acts as the figurehead of the Paralympics village, welcoming and hosting international guests and dignitaries, says that it is very important for member countries of the United Nations to sign the convention on the rights of persons with disabilities because it is part of that organisation and that they ought to sign it.
According to Eva, people with disabilities are no different at all and that they should be treated no differently.
"We hope that the many countries, about forty who have not sent a team this year, will be inspired and will get their athletes trained and integrated into society, whereas before that has just been hidden.
Shenoted that for an athlete to take part in the Paralympics Games,a lot of grassroots work has to be done as well as help people right from the beginning to do sport and become integrated into such societies.
She added that it is very important that the general public sees people who are disabled doing sport and that they are in the first place sportsmen who happened to be disabled.
They are actually no different from the able bodied, she said, adding: "They are people doing sport, which I think is a very important message to send out.
"When people see what is on the television and the pictures in newspapers, they will appreciate that these are sportsmen who happened to be disabled.
"I am very honoured to be the mayor of the Paralympics village, it's a tremendous task and I enjoy meeting all the team leaders when I welcome the teams that came here."
It is not easy to manage people but for Eva people are not much different; they are almost the same and when they came to the Paralympics village, they have been very happy and cheerful and they saw the wonderful spirit of people with disabilities enjoying their sport.
Eva describes the Paralympics Games as fantastic due to the fact that so many world records have been broken and everybody is trying their best even if they didn't win medals; the essence is to participate and do their best.
Sport is a wonderful way to bring people together in society, she said, while giving thanks to the London 2012 for the efforts made in London to adopt things so that they were accessible to people with disability, citing public transport as an example.
Read Other Articles In Article (Archive)