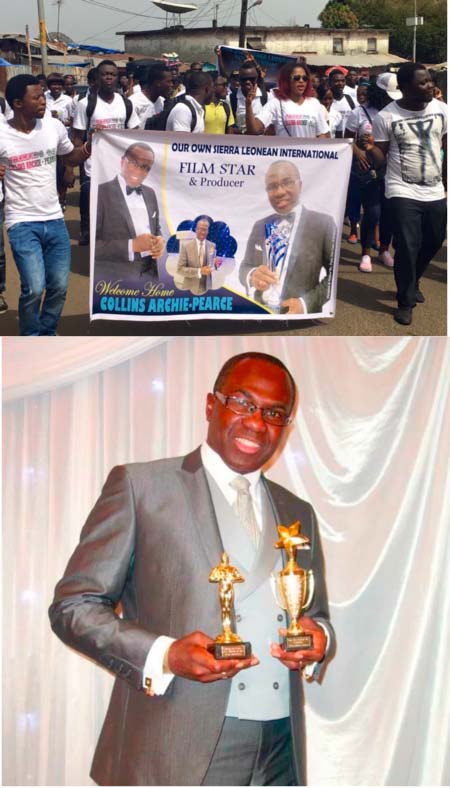 As preparations are in high gear for the Special Movie Award 2016, Collins Ajuma Archie-Pearch is expected to join thousands of people for this event, come 30 September 2016, at Coco Ocean in The Gambia.

Collin Archie-Pearce, a multi-award winning movie producer, actor, the founder/CEO of Archie-Pearce Production Ltd, was born in Freetown, Sierra Leone, West Africa, in the mid-sixties.
He was the first of three children and had spent the first twenty-five years of his life in Sierra Leone, where he attended the Albert Academy and Fourah Bay College studying Economics.
He proceeded to the United Kingdom in 1991 and got married years after, and is blessed with three children and one grandchild.
He furthered his education at Croydon College where he studied Business Management and graduated in March 2008.
Presently, Collins Archie-Pearce is also a senior manager at London Underground Ltd with twenty years of managerial experience heading the managers on the Bakerloo line.
Collins started his career as an actor in the late 70s during his secondary school days in Sierra Leone. And thereafter went to British Film Institute (BFI) to develop his acting & directing skills.
To his credit, he has proudly produced several popular African films including: 'Ibu in Sierra Leone', 'Devil in Freetown', 'I Can't get you off my mind', 'Flight 442'.
Collins has himself featured in several Nollywood/ African movies both here in the UK and abroad, including: Rubicon', Amina', Shameful Deceit', Battered', Ibu in Sierra Leone'
London na wa', 'The Soul', 'Otega and his Enemies', 'The King Maker', 'Complicated', 'Broken' Cross, 'I can't get you out of my mind', National Virus', The Devil in Freetown', Love counts', 'Enchained', 'Oxford Gardens' The British Expert, Santana City, The Village Girl, Gilo and Sheena, etc.
He has also featured on national television in the UK for the past nine years, playing the role of a business tycoon in a TV drama/series entitled 'Everyday life' (which was showing on four Sky Television channels in the UK).
Collins has also built a great portfolio managing the successful careers of top Nollywood actors, including: Patience Ozorkwo, Desmond Elliott, Van Vicker, Mike Ezuroenye, Osita Iheme (Pawpaw), John Okafor (Mr Ibu), Kenneth Okonkwo, Chinere Wilfred, Alex Ekubo, Okey Bakasi, Lanre Balagun, Anthony Monjero, Victoria Inyama, Atto Erick, Joannes Maier, Ifunaya Igwe, Adaeze Ngozi, Chinwe Owoh, Bob Manuel, Charles Awurum and many more, as well as managing non-Nollywood actors including: Kao Denero, Desmond Finney, Martha Sesay, Christiana Kamara, Tyron Da Prince, Heaven Jay, LXG etc.
His achievements and recognitions include Unsung Heroes Award 2013 by Calabash Magazine; Recognition Award for contribution to the African Film Industry in the UK 2013 by ZAFAA; Most impactful member 2011 by the Redeem Christian Church of God, Woolwich; Best Movie Premiere "Ibu in Sierra Leone" 2013 by Sierra Leone Excellence Awards; Best Sierra Leone Film Producer 2014 by the Universal Achievement Awards; Outstanding Contribution to Cinema by United Artist; Best Supporting Actor 2014 by AWO;. Best Film Producer (UK) 2015 by Malisha Da Queen Foundation; Outstanding Support in the Film Industry by Malisha Da Queen Foundation; Best Community Supporter by Malisha Da Queen Foundation; Best Supporting Actor 2015 by BEFFTA Award; Crowned, Diaspora Movie Ambassador by Diaspora Focus organisation, Sierra Leone.
Collins Archie-Pearce has a massive fan base and a proven track record of doing things "bigger and better" each time. Few months ago, he was in Freetown, Sierra Leone, to shoot a blockbuster film entitled The British Expert.
He was received with a rousing welcome by hundreds of entertainers right from Lungi International Airport; the fans printed hundreds of T-shirts with his picture in the front and a welcome note at the back, and they also hired buses to rally the streets of Freetown with the Sierra Leonean icon and legend, who has lifted the name of his country and put it on the world map in terms of film production and promotion.
Read Other Articles In Article (Archive)