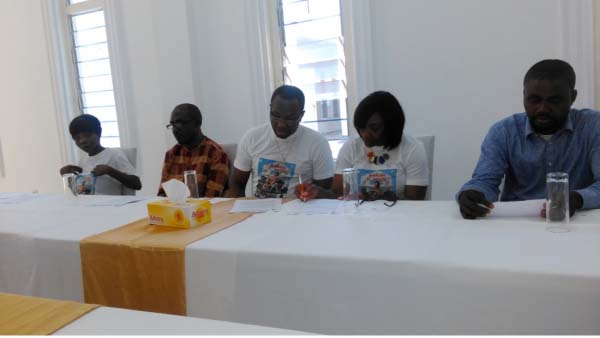 Afrinity Productions, in collaboration with Collins Archie Pearch production, held a press conference to highlight the upcoming premiere of the movie 'Banjul My love 'which is slated for Saturday 6 May 2017, at the Coco Ocean Resort.

The 'special movie awards', held last year, gave birth to the movie 'Banjul My Love' in other to promote the beautiful coast and culture of The Gambia, according to organisers.
Speaking at the press conference, Sheikh Tijan Sonko, vice president special movie awards, expressed gratitude to his partners for the kind gesture to him and for embracing him.
"This premiere will not just entertain the audience but will also send a message across the country and the movie will portray the way we live," he said.
Responding to questions from journalists, Franklin Adim, assistant director on 'Banjul My Love', lamented the challenges faced by movie producers.
He said there are a lot of problems as people prefer to work with international producers and actors.
"The movie is a combination of real life situations and experiences," he added.
He appealed to the government to promote the movie industry, which he described as crucial in any country because it generates a lot of revenue for the nation.
Executive producer of the movie 'Banjul My Love', Collins Archie Pearch also expressed delight in collaborating with Afrinity Productions in making a film, which, he described as a lesson for the people.
"These movies will enable actors and actresses in The Gambia and Sierra Leone to showcase their talents," he noted.
"I like the enthusiasm of the actors and actresses who worked tirelessly and are determined to achieve success," he said.
Wilfred Adams, co-producer 'Banjul My Love', who doubles as the CEO of Afrinity Productions, thanked his partners for a job well done.
They also revealed that the launch of the second edition of the 'special movie awards' calendar for 2017 would be on the day of the movie's premiere. This will enable filmmakers, actors and actresses to know about the awards this year.
Read Other Articles In Article (Archive)