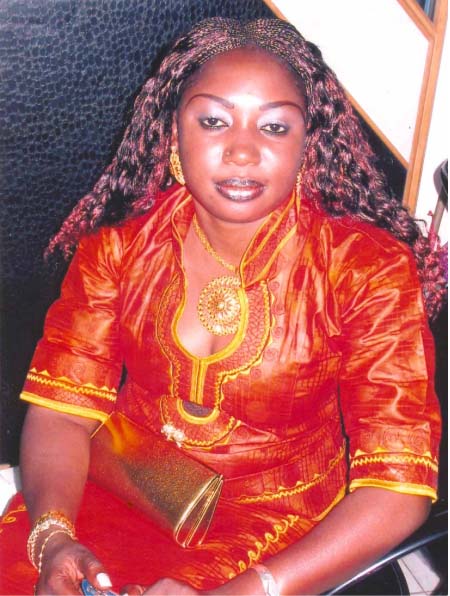 Paris Fashion Shop is among the many fashion shops in the country that have the interest of women at heart. Such interests may be termed as the empowerment of women, and helping them to contribute their own quota in national development.
Located at No1 Garba jahumpa Road, New Town Fajara, Paris Fashion Shop has all that it takes to make a lady look good especially in this generation. The fashion shop, which has been existing for years now, aims at giving young Gambian and non Gambian ladies the best of fashion available.
The proprietress, renown young Gambian lady, ranks among the finest fashion designers that the Gambia and Africa in general has ever produced. Her capabilities, skills, high sense of discipline and strategic initiatives go beyond fashion.
Born in the year 1977 at Baddibu, North Bank Region, Fatoumatta Darboe Gomez exhibited early signs of quality fashion straight from school.
SHE-SHE SHE: What is your name?
Isatou - My name is Mrs Fatoumatta Darboe Gomez (Lady I)
SHE-SHE SHE: Where were you born?
Isatou - I was born in Baddibu in the year 1977.
SHE-SHE SHE: Are you married?
Isatou - Yes I am and I have a daughter.
SHE-SHE SHE: Can you please tell me about your educational career?
Isatou - I did my primary school in Albion Junior school from where I proceeded to Ice High School. From Ice High School, I travelled to France to further my education on commerce. I spent 11 years in France and returned back home to establish my own business.
SHE-SHE SHE: What is the name of your business?
Isatou - The name of my business is Paris Fashion Shop located at No. 1 Garba Jahumpa Road, New Town Fajara. I am also engaged in selling cars.
SHE-SHE SHE: Do you any have employees?
Isatou - Yes I have two female employees.
SHE-SHE SHE: How challenging is it as a woman in this kind of business?
Isatou - I used to face some challenges but I will never give up because I like the business. I used to renew my materials every three months.
SHE-SHE SHE: What advice do you have for the girls who are interested in this kind of business?
Isatou - My advice to the young girls especially is for them to come up with this kind of businesses or any other so as to help themselves before depending on anyone. This will no doubt help them contribute in the development of the country.
Read Other Articles In Article (Archive)