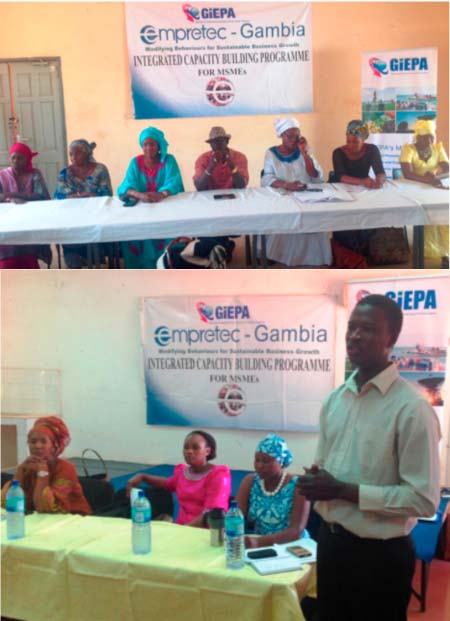 EMPRETEC Gambia is an integrated capacity-building programme of the United Nation's Conference on Trade and Development (UNCTAD) that promotes the creation of sustainable support structures that help existing and aspiring entrepreneurs become innovative and internationally competitive, including micro, small and medium-sized enterprises (MSMEs).
The project is implemented by the Gambia Investment and Export Promotion Agency (GIEPA), and financed by the Gambia government and UNDP.
Sadibou Jammeh, public relations and communication manager at GIEPA who doubles as the PR marketing at EMPRETEC Gambia, said EMPRETEC Gambia is a project that is currently housed at GIEPA.
GIEPA is an agency responsible for promoting and facilitating investments, by both within and outside investors, to help small and medium size businesses to grow.
Speaking in an interview with this paper, Mr Jammeh said the main objective of EMPRETEC is to train individuals in The Gambia who are into business or aspiring to go into business, to become successful in their business.
He explained that EMPRETEC is a project under GIEPA Enterprise Support Department and what it does is to help entrepreneurs, existing small businesses and aspiring businesses to modify their behaviour so that they become successful in whatever businesses they venture into.
He said: "This means training entrepreneurs to become successful by instilling in them the behaviours of successful entrepreneurs worldwide."
Mr Jammeh explained that since the project started in 2014, they have trained about 700 entrepreneurs out of whom 164 are farmers.About 40 per cent of those trained are women.
"Out of the people we trained, there are lots of success stories we can narrate as many of them have started manifesting lot of success in their own businesses," Mr Jammeh said.
He gave the success story of a family man and a former imam in Janbanjely village, who had been recently trained and is now running his own business, and the minimum sales he makes a day is D2,500.
He employed the wife as the project manager, his son and himself as the manager of the production, and pays them salary, which is a great success for them, according to Jammeh.
EMPRETEC had also sponsored, in this year's trade fair, one Awa Njie, CEO of DAWSAL Consulting, and a businesswoman, who sells various types of food items.
Also speaking to this paper was Awa Njie, CEO of DAWSAL Consulting, who said she was proud to have the opportunity to help her showcase what she could do, and also to meet with people and tell them what she could do.
She thanked EMPRETEC and urged them to continue the good work they are doing, as this creates job opportunities for the youths to earn their living.
"EMPRETEC Gambia helps people identify themselves and strengths the business ideas they have, so as to develop to the level they can sustain their business."
She encouraged all those that want to venture into business to be self-sufficient, to come and be empowered by training them to be their own entrepreneurs, as this is the only way forward to help them.
"EMPRETEC helped me a lot because I am all the way from Kombo East. They took me from Mandinaba to be part of the trade fair to showcase my business. I'm now very connected and I'm able to network with new people all over the country," said Tida Camara, a fashion designer.
Read Other Articles In Article (Archive)