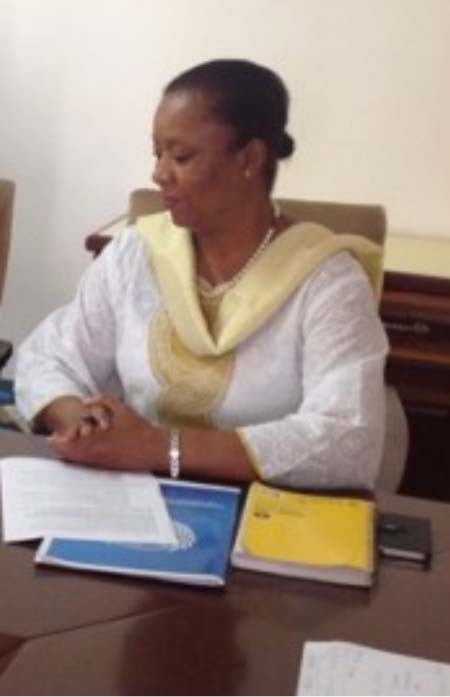 The 2014 Human Development Report published on 24 July by the UNDP places The Gambia at 172 out of 187 countries and territories ranked in the global human development index.
Themed 'Sustaining Human Progress: Reducing Vulnerabilities and Building Resilience", the 2014 HDR report recognizes the progress made in human development in The Gambia since 1980.
According to the UNDP Resident Representative, Ade Mamonyane Lekoetje, The Gambia's Human Development Index (HDI) value increased from 0.300 to 0.441, an increase of 46.9 per cent or an average annual increase of about 1.17 per cent between 1980 and 2013.
With this HDI value, she said while delivering the report at the Senegambia Beach Hotel, The Gambia now ranks 172 out of 187 countries and territories.
Ms Lekoetje stated: "It is indisputable that The Gambia has made progress in each of the HDI indicators: life expectancy, access to knowledge and a decent standard of living. Between 1980 and 2013, Gambia's life expectancy at birth increased by 12.5 years; mean years of schooling increased by 2.1 years and expected years of schoolingincreasedby 4.1 years; and Gambia's GNI per capita increasedby about 0.7 per centbetween 1980 and 2013.
"Notwithstanding this commendable progress," she noted, "poverty reduction in The Gambia has been marginal. The poverty rate is 39.6 per cent; and remains particularly high in rural areas largely due to the vulnerability of agricultural income, vagaries of nature, exclusion from economic opportunities and lack of social services. Large sections of the populations remain exposed to covariate shocks that occur almost on a yearly or bi-yearly cycle."
It is within this context that the UNDP "strongly supports" the Government of The Gambia's Vision 2016 on food self-sufficiency, she added.
"Similarly, UNDP commends the Government's bold effort to develop a comprehensive Social Protection Policy, which wasvalidatedon the 9th of July 2014, to address the needs of the mostvulnerable," she says.
"It is our firm belief that the Social Protection Policy, once adopted and implemented successfully in tandem with theProgramme for Accelerated Growth and Empowerment (PAGE 2012 – 2015), will ensure the universal provision of social services, strengtheningsocial protection and increases employment opportunitiesthereby laying solidfoundation for building long-term resilience in The Gambia."
An account of progress in human development in The Gambia will not be complete without ensuring that the gains that have made thus far are secure through sound institutional frameworks, the UN rep pointed out, saying this is why the UNDP would continue to work with the Gambian government to build responsive institutions capable of withstanding the waves of increased vulnerabilities.
Drawing on experiences across the globe, the 2014 HDR also offers important insights on resilience building, she noted, while outlining some critical lessons.
"The HDR advocates that all public policies including macroeconomic policies should be seen not an end by themselves but as a means to an end," she said, adding that reducing both poverty and people's vulnerability is and should remain the central objective of the post-2015 agenda.
"We should seek innovative policy instruments that make growth inclusive and reduce vulnerabilities, Ms Lekoetje advised, saying the report demands a renewed commitment to put people first.
'This message is consistently promoted by UNDP," she continued. "This means that macroeconomic policies should put full employmentas central objective; government should foster policies that support structural transformation for increasing formal employment through greater public investment in infrastructure, development of human capabilities, active promotion of innovation and strategic policies for trade, particularly exports."
Dealing systematically with these issues, she noted, The Gambia can indeed have "a momentous decade ahead which can translate into even faster employment generation, increased economic growth and human development".
While The Gambia ranks 172, Senegal stands at 163, Guinea Bissau 177, Ivory Coast 171, Guinea Conakry 179, Liberia 175, Nigeria 152, Ghana 138, and Sierra Leone 183.
Norway ranks first in the world, while USA ranks 5, the UK 14, Germany 6 and France 20. 
Read Other Articles In Article (Archive)