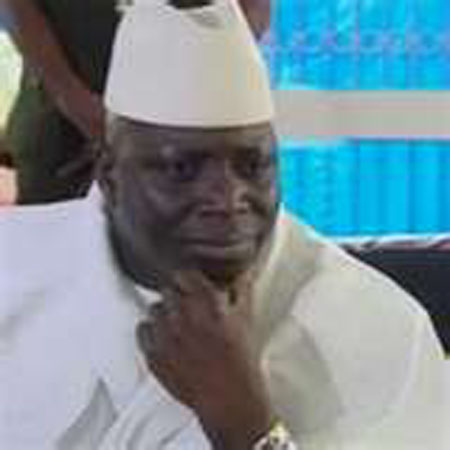 President Jammeh has seriously denounced the practice of homosexuality in the country and has given last Friday as the ultimatum for culprits to leave the country.
Speaking last Thursday at a victory celebration held at the Buffer Zone in Tallinding, President Jammeh said that a legislation"stricter than those in Iran" concerning the vice would be introduced very soon.
He maintained that The Gambia is a country of believers, noting that such sinful and immoral exploits as homosexuality would not be tolerated in this country.
He avowed that he would "cut off the head" of any homosexual caught in The Gambia.
The Gambian leader gave orders that thenceforth, any hotel or lodge housing a homosexual be closed down, further warning that if found in any compound, the landlord would be in deep trouble.
The President said his joy over the victory celebration is marred by the realisation that no one is helping him to make The Gambia the best place.
He revealed that his government has spent over US$100 million towards the development of the country since 1994 but deplored that almost 98% of the amount have gone to foreigners.
"It is the parents that spoil their own children and they would not benefit them tomorrow. I am not going to tell you what is going to please you, but the hard fact and something that would benefit you," he contended, noting that any time he made a statement, people subjectively view his remarks as blames on them.
He maintained that the country's future rests on the shoulders of the youths and suggested that every effort should be directed to the immediate task of stabilising people's lives, rearing the younger generation to becoming competent persons and satisfying the desire to cherish the good values of our people.
At the Brikama meeting on Saturday, the Gambian leader said that by the end of 2009, there will be electricity from Kartong to Koina and by 2011, there will be Senior Secondary School in every 50km in Western Region, the largest region in the Gambia. "Western Region, I owe you and I would pay you. You showed me that you trusted me, if not you would not have voted for me massively. I will make you proud among all the regions. You will have more than what the others have," he said.
Meanwhile as part of the victory celebration in the Kanifing Municipality, Yankuba Colley, Mayor of KMC, presented a cheque of over D500,000.00 to GAMWORKS for the construction of the Kayupa road in Ebo Town and the expansion of Charles Jaw Upper Basic School.
Dialogue with the Peoples' tour ended yesterday with a mass victory celebration at the July 22nd square in Banjul.
Read Other Articles In Article (Archive)