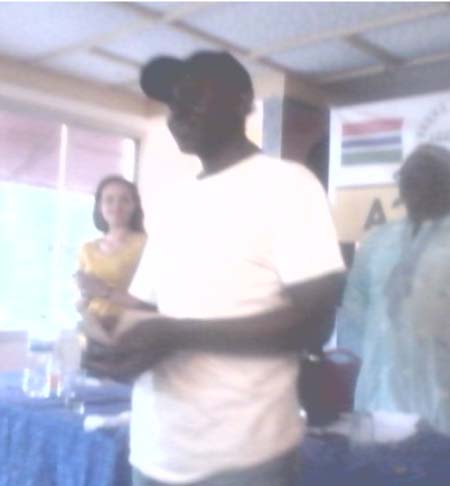 Gambia National Champion, Ebrima Bah, has become a Candidate Master after notching an unexpected excellent win in the closing stages of the recently concluded 41st Chess Olympiad in Tromso, Norway.
This took his overall score to 4/8, which gave him title of FIDE (International Chess Federation) Candidate Master.
He becomes the third Gambian to achieve the title, the other two who have done so did it as a result of their performances at the Dubai Olympiad in 1986.
They are Amadou Jallow, who is the team captain in Tromso, and Momodou Njie, who has lived in the United States for many years.
In Round 9 of the Chess Olympiad in Tromso, Norway, on 11 August, Team Gambia predictably went down to defeat against powerful opposition from Iraq. Momodou Bittaye, Eliman Lemon and Jalamang Jallow lost their games.
In Round 8 on 10 August, Gambia played Papua New Guinea. Ebrima Bah and Jalamang Jallow won their games for Gambia, but Joseph Dalliah lost.
All therefore rested on Momodou Bittaye, who was playing Rupert Jones, secretary of the FIDE (International Chess Federation) Development Commission.
Bittaye found a clever draw in the endgame to win the match for Gambia and to demonstrate to his opponent the developing strength of Gambian chess players.
In recent rounds Team Gambia received considerable help from International Arbiter Stewart Reuben of England, who was the driving force behind the Gambian Chess Festival in February 2013.
In the battle to be the leading West African nation, Nigeria currently has 8 match points, Mauritania 7, Gambia, Ghana and Ivory Coast 6 each, and Senegal and Togo 4 each.
In another development, at the FIDE Congress incumbent President Kirsan Ilyumzhinov was re-elected for another four-year term, defeating the challenge of former World Champion Garry Kasparov.
Meanwhile, the Gambian delegation that returned home last Saturday thanked Mr David Sedgwick who has been very much helpful to the team throughout the tournament.
Read Other Articles In Article (Archive)