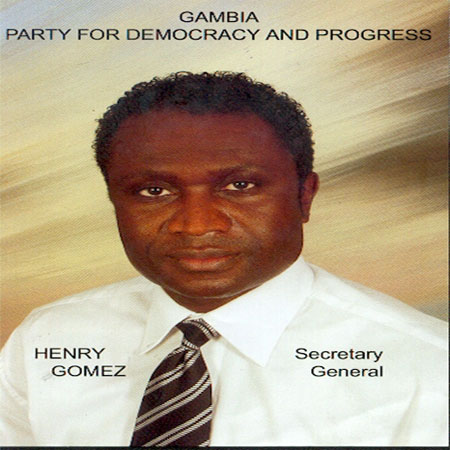 The leader of the opposition Gambia Party for Democracy and Progress (GPDP), Hendry Gomez ,has challenged the Independence Electoral Commission (IEC), the body responsible for conducting elections in The Gambia, to always ensure free, fair and transparent elections.
Speaking in an interview with The Point, Mr Gomez said a very fair and impartial voter registration, and education of all eligible voters, are essential for any credible elections".
Hendry Gomez, who is the Secretary General of the GPDP), told this reporter over weekend at his Bakau office, that the IEC must ensure that all Gambians, who attain 18 years and above, are registered during the next voter registration exercise.
"The IEC must ensure that electorates have enough information regarding registration time and place," he said.
According to him, when this happens, it would give every eligible Gambian to chance to exercise his or her political rights.
The opposition party leader also  told this reporter that if the elections are held in a peaceful and democratic atmosphere, it will be a credit for all Gambians.
"The Independent Electoral Commission has a sensitive and very important responsibility to play. These responsibilities, amongst the lot, include the registration and issuing of voters cards to eligible voters, the education of the electorate on the importance of voter cards, and voting obligations and rights," he said.
It is, therefore, a challenge to all officials mandated by the IEC to honestly and honorably safeguard the integrity of this valuable institution so as to conform to the laws, rules and regulations that set up the IEC," he said.
Since this is an election year, he continued, it is necessary and important for all those in authority, be it institutions or individuals, to live up to expectations.
Read Other Articles In Article (Archive)