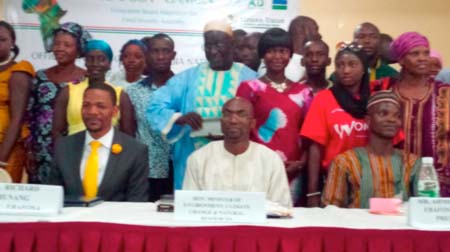 (Monday October 10, 2016 Issue)
The Minister of Environment Climate Change and Natural Resources, Pa Ousman Jarju, Friday presided over the official launching of the Ecosystem-Based Adaptation for Food Security Assembly (EBAFOSA), Gambia Chapter, at the Paradise Suites Hotel.

EBAFOSA Gambia Chapter will be hosted by Worldview The Gambia office in partnership with NACOFAG, a farmer-based organisation.
The Gambia is among the 12 countries EBAFOSA has been launched.
Speaking at the launching ceremony, the acting UN Residence Coordinator, Dr Charles Sagoe-Moses, said UNEP is facilitating the rollout of the Ecosystem-Based Adaptation for Food Security Assembly across the entire sub-Saharan African region.
He said that currently there are 40 countries that have set up their national branches.
He said EBAFOSA is an inclusive Pan-African policy and implementation platform whose creation was facilitated by UNEP in partnership with the AUC, AFDB and other partners in July 2015.
Dr Sagoe Moses stated that EBAFOSA includes cross-cutting actors from government/public sector institutions and civil society organisations as well as policymakers, members of the private sector, academics, and researchers, and UN partners.
EBAFOSA seeks to support government in domesticating high-level continental and global declaration on food security, climate change, and inclusive sustainable development.
"EBAFOSA work is country-driven, through country-level branches that convene these cross-cutting stakeholders and is coordinated at continental level by a secretariat facilitated by the UNEP, "he said.
He added that EBAFOSA is premised on building country level partnerships and coordinating these across the continent to facilitate country and continental cross-hybridization of solution, capacity building and best practices transfer in order to bridge the policy- implementation action gaps in technology, financing, techniques, commercialisation and policy processes.
Also speaking at the launching ceremony, the president of EBAFOSA Gambia chapter, Ahmed Salami, said the launching aimed at addressing the critical and interrelated challenges of food insecurity, degradation of ecosystem, climate change, poverty and unemployment.
According to him, EBAFOSA is a solutions space that bridges the gaps in implementation that have long stifled real substantial progress in Africa through fostering partnerships between solutions providers by providing a platform for interaction between stakeholders in government, private sector, regional and global intergovernmental bodies.
He said EBAFOSA Gambia had been established to draw the attention of the general public and the authority on the need to adapt to climate change and reduce its impact on environment, especially the crucial, but highly vulnerable agriculture sector.
"We hope to contribute to the improvement of the value chain of agricultural products through market standards for its modernization and generating by developing synergies between actors from different sectors of the agro-value chain for healthier and competitive end products," he said.
He also stated that in line with their principle of inclusivity and the move to involve all stakeholders, EBAFOSA Gambia is progressing in mobilising stakeholders and has registered focal persons across all regions in The Gambia.
"We expect EBAFOSA Gambia to be a formidable partner of government in developing and implementing policy and solutions towards solving The Gambia priority challenges on food insecurity, climate change, ecosystem degradation, income and job creation, especially for the youths through optimising the agro-value chain using EBA techniques, supporting access to affordable agro-lending, enhancing access to supply and demand markets and enhancing clean energy access in rural areas to spur rural agro-industry," he added.
Read Other Articles In Article (Archive)