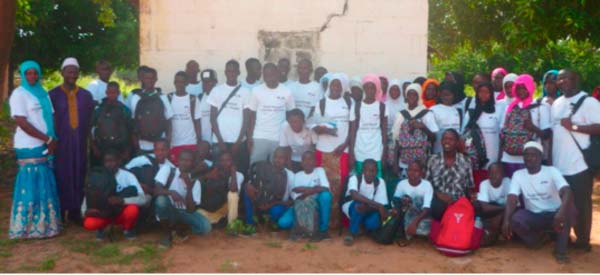 The Iceland Friendship Association – The Gambia (IFAG), a charitable organisation operating in The Gambia since 2009, on Saturday 8 October 2016 launched its project called "The Salikenni Project".

The organisation benefitted from funding from the Government of Iceland through its partner organisation.
The project is poised to providing educational support to over some hundred needy students for the 2016/2017 academic year and beyond.
The support is available for North Bank Region students in upper basic and senior secondary schools, tertiary education (technical and vocational) as well as the university.
The launching saw each student benefit from 2 sets of uniforms, a school bag, 15 exercise books, text books, an oxford dictionary, a set of box, pens, drawing books, graft books, rulers, a calculator and novels from the project, aimed at supporting access to quality and relevant education.
In addition to the above mentioned materials, each student from upper basic school received D2,000 as lunch money.
Those from senior secondary and tertiary education schools each received D3,000 while those at university each received D4,500 as lunch money.
Speaking on the occasion held at Salikenni Basic Cycle School, Njundu Drammeh, IFAG Board Chairman, said the organisation focuses on child rights promotion and protection, education, women and youth empowerment through community participation.
He described children as not only future leaders but leaders of today as well and as such should be given the necessary support and guidance to ensure they become better leaders.
He observed that nations that have developed first invested in their children, noting: "Educating children brings development to self, communities, nations and the world at large."
Mr Drammeh called on parents to equip their children with education to become productive and responsible citizens of The Gambia and the world.
He urged students to be hard working, committed and discipline.
He also revealed that the organisation plans to establish a computer lab and an electronic library at the school.
The Governor of North Bank Region, Lamin Queen Jammeh, in his launching statement, pointed out that the association is not big but has a big heart, saying associations are many in the country but IFAG's types are rare.
He therefore thanked IFAG management for their courage and efforts at supporting students from upper to university level.
"There is no better way to fight poverty than education," he remarked, saying parents, teachers, students and sponsors all have a stake in education and as such each should play its part fully.
He also urged the organisation to consider late developers in the sponsorship.
Governor Jammeh also reserved special praise for Fabakary Kalleh, who he said is always in for national development matters.
Kerewan Area Council chairman, Alh. Lamin Ceesay commended the association for their efforts and urged its members to continue the good and noble work, saying government alone can't do it all.
He also advised students that education does not take place in the absence of sacrifices.
Alagie Jagne, Central Badibu Chief, said education brings about development, self-dependency and as such nothing better can go beyond what the association did.
Lamin Fatajo, Regional Education Officer and Human Resource director, thanked the association for complementing government's efforts at making education available for all.
He also urged students not to disappoint the trust the association has in selecting them, but to work hard to also benefit others in future.
Mariama Sonko, in delivering the vote of thanks on the occasion, assured the association that they would never let them down, saying: "It's a promise and not a vow. We will always pass our exams with flying colours."
Read Other Articles In Article (Archive)