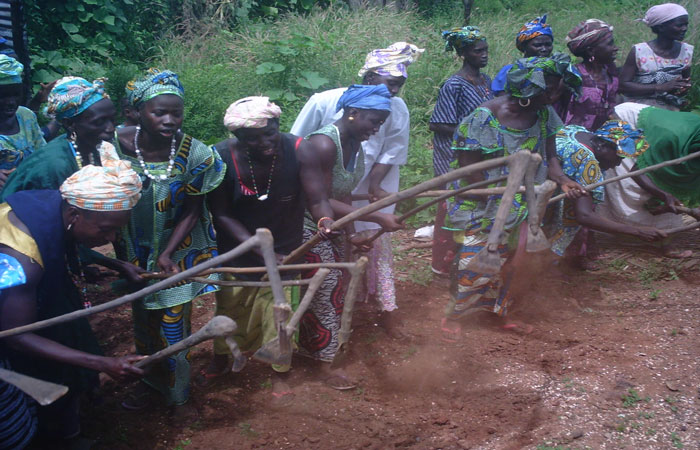 As the HungerFREE Women caravan crosses The Gambia's regions it's increasingly clear that if only women farmers were given what they need to produce food, food security for The Gambia could become a reality and not just a distant dream.
Women farmers from across the country have share this phrase "ease our burden and we will feed the nation". Women said they used ancient tools for farming and can't afford fertiliser to boost their production.
For Jainaba Nyang-Njie, Women Rights Co-ordinator at Action Aid, who led the caravan, said "Women are hard workers, but they are tired. Women don't own or control land to grow food, let alone fertilisers, credit or seeds."
Women produce over 90% of The Gambia's staple food, rice, but as the caravan has heard this week, they lack the support to increase their production and income and to feed their families.
Isatou Fayinkeh, a farmer from Basse recently lost the land she had been cultivating when the landowner reclaimed the land for himself.  Despite the fact that she had prepared the land, and spread fertiliser she had no legal rights over the land.  Fayinkeh said, "by giving women land and making them have permanent control of it they can be able to feed the nation." 
As well as needing permanent access and control over land, women also need to be given good quality land.
"There is no doubt that we have to deal with the land problem, it is critical.  The land tenure system is not favouring women and they are suffering as a result.  They are farmers - how can they farm without land," said National Assembly Member Honourable Kaba Touray who is travelling with the caravan.
 "Access to labour saving devices and technologies is also holding women back. Women are doing everything manually using crude old fashioned instruments - clearing land, tilling the land, fetching water and pounding the food as well as all their household chores.  If only they had access to technology and materials, then we would really see the potential of women farmers in The Gambia," adds Jainaba Nyang-Njie.
"Rural areas are going backwards because of a lack of water. Without water, our work cannot be done.if we have enough water during the dry season we can cultivate our gardens throughout the dry season," said Ahi Wooly Bah from Upper River Region.
Honourable Modou Touray, a member of the National Assembly who also traveled with the Caravan, said, "As a people's representative I have been impressed with the women voicing their needs. The difficulties they face are overwhelming and it has been so important to hear it directly from the women themselves.  We must act fast.  If women are empowered, the hunger crisis in The Gambia could be brought to an end."
Women farmers have pledged to salvage the country's food crisis if empowered.
Read Other Articles In Article (Archive)