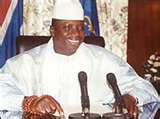 His Excellency the President of the Republic Alhagie Dr. Yahya Jammeh will tomorrow, Thursday 23rd October 2008, launch the Spanish African Women Empowerment Project under the banner of President Jammeh's women empowerment initiative.
The launch, to take place at the paradise Suites Hotel, aims to create awareness amongst all women for their participation and involvement as well as further inform potential donor partners on the need to mobilise resources and encourage investors to positively contribute towards the realisation of the project.
According to a news release from the Women's Bureau, a new Women's Council has been constituted replacing the old council whose terms of office have expired and it is planned that the inauguration of the new council will take place during the launch ceremony.
In 2005, the release added, the President launched the President's Women Empowerment Initiative and in 2006 the Women's Bureau and the National Women's celebrated their Silver Jubilee and the celebration was marked, amongst other activities, with a national conference of women leaders and consultation amongst several women's groups.
"Key recommendations from the consultation were the formation of a women's federation, and the establishment of a National Women's Multipurpose Centre to address the urgent needs for the availability of market infrastructure and opportunities as well as the building of a storage and processing plant. This was endorsed by the President during a meeting with women," the release stated.
For the realisation of this objective, the release went on, the office of the Vice President and the National Women's Council assigned the women's bureau to mobilise resources for the above. "We are pleased to inform that some funding has been secured from the Spanish and Gambian governments towards the building of the storage and processing plant of the proposed Multipurpose Market Complex, rehabilitation of 25 women's gardens, provision of labour saving devices as well as training women on various skills relevant to the project support areas."
Read Other Articles In Article (Archive)