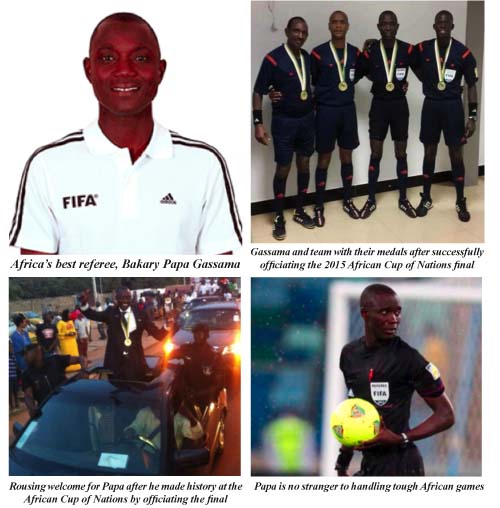 Bakary Papa Gassama is a Gambian football referee who started refereeing in 2003.
Speaking to The Point in an exclusive interview on Tuesday, Gassama who became a FIFA referee in 2007 said "it was very difficult when I started.
Refereeing is very difficult worldwide and not only in The Gambia, especially at the beginning." Papa who said the likes of Modou Sowe, Omar Sey, late Uncle Badou Jasseh and others motivated him to take up the career.
"It is not easy being a referee especially in Africa," Papa who has a wealth of experience and is not stranger to officiating tough games in Africa also said.
The 36-year-old who said he has so many role models, including late Uncle Badou Jasseh, Omar Sey, Malick Sallah, Modou Sowe, also recommended "training hard and respecting your elders' advice, watching many matches and be very focused and determine in what you are doing, is key for a referee in order to succeed."
Papa who is the first and only Gambian referee to have ever officiated an African Cup of Nations finals, added that he believes being given the task to officiate some of the toughest games in Africa is down to the trust CAF and FIFA have in him.
"It is not easy to officiate tough matches," especially derby matches, he went on, and that being the first non-Asian referee to ever officiate in the Qatari league helped him a lot.
"I was told before going that I will officiate the tough two matches", he recalled, adding that he thinks he did well in those games he officiated.
Officiating in the Qatari league was another experience because it is a different level of football, with a different footballing mentality among other different things, he pointed out, adding: "it helped me a lot."
"In refereeing, it is good that as a referee you play so many matches with different atmospheres and footballing levels."
Also officiating at the World Cup shows the trust both FIFA and CAF have in him, he observed, recalling that the Olympics was his first FIFA tournament, where he officiated two games in which he was the fourth official in the quarter-finals and finals.
He described officiating at the Olympics as a big opportunity for him, adding that the trend has continued since then.
Gassama who officiated in two African Cup of Nations tournaments before featuring at the World Cup, further stated that the most difficult game he has officiated to date in his career was his first African Cup of Nations game.
It was very important not just for him but all Gambians when he was awarded the best CAF Referee of the Year 2014, Gassama went on, adding that he always puts at the back of his mind that whatever he is doing is not just for himself or his family, but for the Gambians.
He described the award as "very important because this was the first time a Gambian referee won the best CAF Referee of the year award."
He said he was not surprised being awarded the Best CAF Referee of the Year 2014, looking at his performance.
Mauritian referee Rajindraparsad Seechurn was suspended for six months by CAF during the recently concluded African Cup of Nations for giving Equatorial Guinea a controversial penalty in stoppage time as they beat Tunisia 2-1 in the quarter-finals.
Commenting on the matter, Gassama described the suspension as "very unfortunate and sad for a referee or any other person."
He described Seechum as his brother and colleague, but said Alhamdulillah such a thing has never happened to him and prayed to God that it never happens to him and all other referees in the world.
"We are all doing the same work, and it is sad to see your colleague being suspended, but it is all part of football", he added.
"I do not think any referee will go to the highest level of football and do certain things on your own; we all can say it was a mistake. I do not think any referee will go inside a pitch and joke with your life, because refereeing is our lives."
Gassama said his aim is to continue officiating in the top leagues, matches and tournaments, adding: "People are saying I did well, but to me it is as if I have not yet started refereeing. The best thing one can do is to continue performing, because climbing the ladder sometimes is not difficult but maintaining it is the most difficult part."
Praying to God as well as people to continue praying for him to maintain the high standards, as well as pray for his Gambian FIFA colleague referees officiating international matches, Gassama said he is aiming to continue performing well," and urged young referees to continue training hard and listening to experienced referees, because one can never buy experience.
"We have very experienced retired referees such as Modou Sowe, Omar Sey, Malick Sillah, Lamin Camara and others."
Gassama who was born in Meme village, Jokadu district in North Bank Region, called on upcoming referees to "listen" to him and all other experienced referees, "watch matches, read the laws of the game, train hard and be very honest."
"As a referee, if you want to go far you have to be honest and very sincere in whatever you are doing," he pointed out.
Papa is the son of Muhammed Gassama, who passed away long ago, and he was raised by his step-dad, Imam Gassama, whom he said he calls his dad because he did everything for him.
Gassama who currently resides in Latrikunda Sabiji is from a family of seven.
In concluding the interview, he thanked the head of state, whom he said has done everything for him, the Ministry of Youth and Sports, his family, the Gambia Football Federation, all journalists, daddy Mr Papa Saine of The Point newspaper who is a close friend to his father, colleagues, and the entire country for their prayers, "because sometimes you can be lucky to have certain privileges, but it is only prayers that help you at times."
Read Other Articles In Article (Archive)