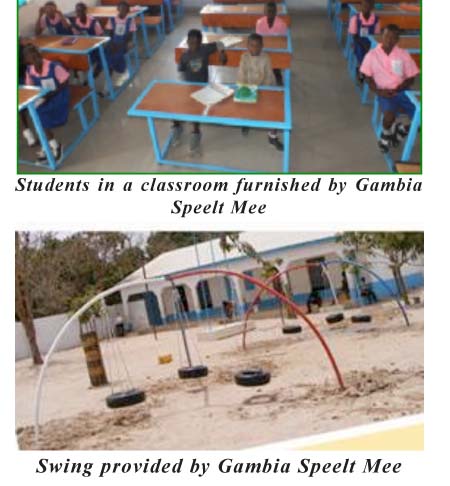 Gambia Speelt Mee, which means 'Gambia Plays Along', is wrapping up operations in The Gambia, after touching the lives of more than 6,000 children in at least 40 schools across the country.
The idea of such foundation, initiated and run by Bert Min, owner of a professional video production company in Holland, was conceived in 2010 but started operations in 2011.
In line with its slogan, "Together we make it a little more fun", the Dutch foundation has given playground equipment such as swings, climbing-frame and seesaws to different schools in the country.
Gambia Speelt Mee has also donated sets of school desks with benches to several schools, during the course of the five years.
Students of some desk recipient schools initially used to sit on empty crates, some on dilapidated benches – without tables.
Mr Min, who used to come to The Gambia as a holidaymaker, said within the five years of the foundation, the lives of many schoolchildren in the country have become "a little better by making it a little more fun".
"Personally," initiator said, "I consider it a privilege to spend my donation to realise more fun for the schoolchildren.
"I always feel happy when the children are happy, and this was my biggest motivation that kept the foundation going."
The Dutch explained that with the ceaseless support of the sponsors during the project, Gambia Speelt Mee's interventions have produced great results. "The foundation has put a smile on the faces of people as it bettered the education of more than 6,000 children either by using the playground equipment or sets of school desks," he said."We have supported more 40 schools either with playground equipment or desks."
Mr Min said even before reaching this number of schools, at the initial stage of the foundation, he had seen the successes from the few schools supported by then.
"That was even what gave me more encouragement to do more with the help of my sponsors," he explained."At the beginning, the foundation concentrated more on giving playground items because play is part of growing up and it is also part of education; it teachers children to do things together just like they do together in class."
Mr Min said that Gambia Speelt Mee started giving desks as an experiment.
"We started it with one English foundation some years ago but when we saw how helpful it was and the need for such support in several other schools, we decided to continue giving such support in addition to playground equipment," he stated.Many other support of desks that followed the experiment phase were given in collaboration with other English, German and Dutch foundations.
The Dutch man said the support of his foundation is void of discrimination.
"I don't make any difference whether it is an Islamic or Christian school.For me, children are children so there are no differences between Muslim and Christian children," he said.
He added that the foundation had given support to schools that deserved it and met the criteria of basic cleanliness and non-use of cane on children.
The ultimate end
"After 5 years, I am now ceasing operations.Everything that has a beginning, will surely have an ending whether it is a success or not," the founder of Gambia Speelt Mee said.
"It is better for me to stop and give reason other than lack of success.I should not wait until when I began to realise that the foundation is not achieving any result then stop; no."
He explained that even though the foundation is wrapping up, he is not going to leave legacy to die like that.
"I am going to hand over everything to the construction company where I used to order the desks and playground equipment from in Kanifing.I will be supporting the owner of the company, Sheikh Secka, for one more year by giving him my expertise and showing him how to work with the sponsors as well as the schools."
Last schools
Among the last schools that Gambia Speelt Mee has supported is Hart House Home for Children with Learning Difficulties in Sinchu Alagie, and Charles Lwanga Nursery School in Fajikunda.
Two playground swings were installed at Hart House while 39 sets of school desks were given to the nursery school.
Geoff Hunwicks, chief executive officer of Hart House, and Sister Bernadette McManus, manager of the nursery school, expressed appreciation to the foundation for the support.
Read Other Articles In Article (Archive)