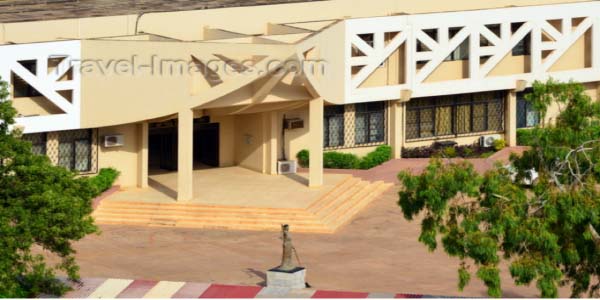 Justice Eunice O. Dada of the Banjul High Court yesterday told the office of the Director of Public Prosecutions (DPP), to diligently prosecute the case of five senior officials of the Ministry of Agriculture.

The accused persons are Fafanding Fatajo, the project coordinator of Food and Agriculture, Foday Jadama, deputy director of the soil and water management services under the Ministry of Agriculture Sector Development Project (FASDEP), Omar Jammeh, financial controller of FASDEP, Kalilou Gaye, and Baboucarr Kujabi.
They are being tried on charges of conspiracy to commit felony and negligence of official duties, which they all denied.
Lawyer Ade and Mansour Jobe appeared for the state, while lawyer E. Sanneh announced his representation for the 1st and 5th accused persons.
Lawyer Moses Richards appeared for the 2nd accused and lawyer E.M Sissohor appeared for the 3rd and 4th accused persons.
When the case was called, state counsel Ade informed the court that the matter was slated for hearing.
He further said their witness, who is a police officer, was ill and was receiving treatment at the village and could not make it to court.
He then applied for a short adjournment.
Reacting to the application of the prosecution, lawyer Richards said it had been one year since the commencement of the case, and the prosecution had called only two witnesses.
He argued that the accused persons even though "they are on bail, but they are not free and their liberties are at stake".
"All the adjournments, since the beginning of the trial, were at the instance of the prosecution. There is no application before the court for a formal adjournment."
Lawyer Richards further submitted: "We have no choice, but to accept the application for an adjournment, but the state should be warned to proceed with this case diligently so that the accused persons' right to a speedy trial is ensured."
Lawyer Sanneh also argued that at the last sitting his learned senior submitted that if the case did not proceed, because of the prosecution, the accused persons should be discharged.
He added that he was associating himself with that submission.
"There is no sufficient reason as to why the prosecution should be granted an adjournment. They have delayed this case with no cogent reasons. We apply that all the defendants in this case be discharged in the name of fairness," counsel Sanneh said.
In her ruling, Justice Dada said from the records the case suffered a series of setbacks, at the instance of the prosecution.
She told the office of the Director of Public prosecutions (DPP) to proceed with the case diligently, and further warned that no further delay in the case would "be taken lightly again".
However, the judge overruled the application for the accused persons to be discharged.
The case was subsequently adjourned until 9 and 10 November 2016, at 1-2pm.
Read Other Articles In Article (Archive)