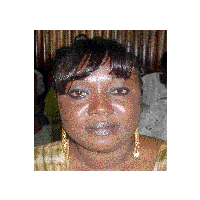 Mr Madi Jatta, former head of Nursery School at the Department of State for Basic and Secondary Education, on Tuesday testified in the ongoing trial of Oley Sey and Abdou Rahman Bah.
In his testimony, Mr Madi Jatta told the court that he was informed by the SOS for Basic and Secondary Education that she called the KMC Mayor and the 2ndaccused Abdou Rahman particularly Mr Bah to bring the D500,000 donated to the Abuko Nursery School. He said the SOS gave him a specific directive as to what he should do if they come and the directive was that upon their arrival he should escort the 2ndaccused Abdou Rahman Bah to the nearest bank to deposit the D500,000 and copy to him. He added that upon their arrival he asked Mr Bah about the money and Mr Bah asked to be given time at that moment he mention the name of the 1staccused Oley Sey as the one having the D500,000 in her custody. Mr Jatta revealed that Oley Sey was called and upon her arrival he put it to her that Abdou Rahman said the D500, 000 was in your custody to which Oley Sey replied that it was false.
Further adducing, Mr Jatta told the court that Oley Sey later suggested that her, Abdou Rahman Bah and the Abuko Alkalo step aside to discussed among themselves which was granted. He said on their return he asked Abdou Rahman Bah what transpired and Mr Bah said they were discussing the D500, 000. He stated that he got a call from the chief of Protocol at the office of the president asking him the latest regarding the D500, 000 and replied to him that it prove difficult to him. He said the chief of Protocol later told him that he was sending a security person to the meeting to invite the accused for interrogation on the subject. He asserted that he informed those at the meeting what the Chief of Protocol told him over the phone. He said it was at that point Oley Sey told him that if he can send a driver to her car to bring the D200, 000. He responded that he cannot do that and she may wish to explain where she was likely to go. He said later a security personal came and took the accused persons away.
It will be recalled that Oley Sey and Abdou Rahman were alleged to have conspired and stolen the sum of D500,000 meant for Sulayman James Junkung Jammeh Memorial Nursery School in Abuko.
Hearing continues today.
Read Other Articles In Article (Archive)