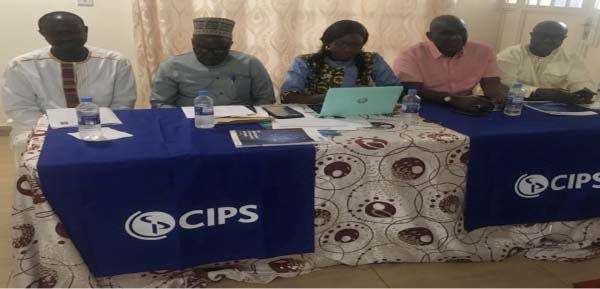 Chartered Institute of Procurement and Supply (CIPS) – The Gambia chapter was Saturday launched at the Gambia Hotel and Hospitality Institute in Kanifing. The institution was established in 1932 to promote good practices and provide services for the benefit of procurement committees of more than 100,000 members.

The launching brought together students and stakeholders working in the procurement field.
Fatou Ceesay-Jarju, chairperson of CIPS Gambia chapter said the institution is based in the United States as a global professional body working in the purchase and supply profession. She said CIPS aims to promote and develop high standard of professional skills, ability and integrity among all those engaged in purchasing and supply chain management.
She said the institution has its code of conduct, including promotion of the eradication of unethical business practices and enhancing the proficiency and status of the profession amongst others, which all members are required to abide.
Mrs. Ceesay-Jarju noted that as a chapter, their aim is to support the CIPS mission in The Gambia and to provide interesting and informative events for their members.
Deliberating on the importance of procurement and supply in socio-economic development of The Gambia, Kainding Sambou from the Ministry of Finance and Economics Affairs said procurement is an essential element of governance reform that makes up to 15% to 20% of the GDP. "It contributes to greater competition by stimulating trade and fostering direct foreign investment," he said.
According to him, a poor procurement system can turn public investment into major political and economic liability and it can hinder development and outcomes. He said delay in payment could hurt cash flow and ability to supply which can put progress at risk".
Mr. Sambou advised students to maintain the values of the profession, saying they should hold government accountable for their actions.
Representing the West Africa Region 1, Jennifer Akongbota said the objective of setting up CIPS chapter in The Gambia is to foster relationship among procurement professionals, adding that there is need to have a representation and an association in the country.
She encouraged procurement practitioners to join the national body for national development, saying their next plan is to organise training for members to better capacitate them.
Read Other Articles In Article (Archive)