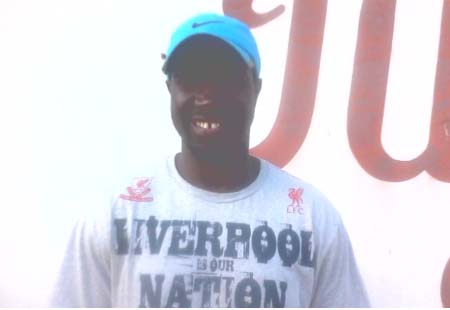 Dodou Kassama has emerged as winner of the weekly Gambia Golf Association (GGA) golf competition played at the Fajara Golf Course on 31 March 2014.
The tournament, sponsored by the Gambia Golf Association, featured 9 professional golfers and 3 amateurs.
Dodou Kassama recorded a remarkable 1 eagle, 1 bogie and 2 bardies to finish the competition with an outstanding 1 under par on the first 9 and 1 over par on the back 9, registering a terrific medal score of 69, level par.
Gibou Jallow secured second position, recording a double bogie and 3 bardies to register an outstanding 1 over par on the front 9 and an incredible lever par on the back 9, to finish the competition just a shot behind Dodou with a medal score of 70, 1 over par.
Fa Kebba Drammeh alias Gambian Tiger Woods recording 2 bogies on the front 9 and 2 bardies on the back 9, to finish third in the competition with a medal score of 72, 3 over par.
As winner, Dodou Kassama received D2, 000. Gibou Jallow received D600 as runner-up while Fa Kebba who finished third received D400. Edrisa Jammeh came out winner in the amateur category with a gross score of 71. Laity Joof took second position with a gross score of 79 while Ebou Gassama finished third with a gross score of 87.
Speaking to reporters shortly after the competition, Dodou Kassama said it was a good game for him, adding: "I really played well today."
Kassama stated that he has been working very hard on his patting, which were his major trouble for the past couple of months but thanks God, it paid dividend on Monday.
"I missed some of the fairways with my driver but managed to make some very good recovery shots on hole number 4 and 7," he added, saying managing the recovery shots were the turning points of his game.
I made some bad shots on hole number 14 and 18, he went on, saying if it was not for those bad shots he could have finished the game with 2 under par.
This is the game some times as you make errors where you do not expect them, he pointed out.
The promising young professional golfer also said he had been working very hard on his game to challenge Gambia's leading golfer, Fa Kebba Drammeh, giving an example of the Jack Darnel's Club tournament in which he won the competition by playing 4 under par and beating Fa Kebba to claim first position.
"It is always very good when I win Fa Kebba," he said, adding that it always gives him motivation and confidence that his game is somewhere going.
"Whenever I finish behind him I feel there is more work to do," remarked, saying he has been working very hard to beat Fa Kebba and was really delighted beating him.
"Winning him means a lot to me because I was his caddy and have learned a lot of my game from him," he further said, describing Fa Kebba as his mentor. His success is all down to hard work and focus, he added, saying he believes that "anything you do if you put effort and hard work to it success will come your way".
The wind had an impact on his game, he noted, saying it is tough to play on the course when it is windy because "you do not have control on your balls as it is controlled by the wind".
The Open Du Senegal is one of the biggest tournaments he is working on at the moment, saying he does not just want to go there this time to participate but to make a difference.
Read Other Articles In Article (Archive)