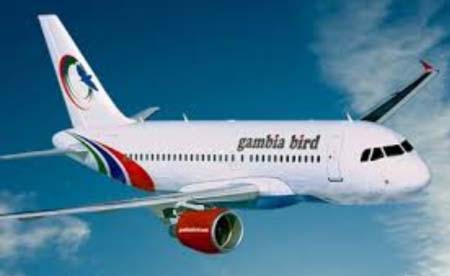 Following the outstanding success of its 18 months of operations in The Gambia, Gambia Bird Airlines has launched into the skies of three new destinations in West Africa to further connect the sub-region to the comfort of its citizens and others.
According to Gambia Bird Airlines officials, who were speaking at a reception held at Coconut Residence on 29 March 2014, the new services would operate from Gambia Bird's home-base of Banjul, The Gambia, to Guinea-Bissau, Lagos, Dakar and Douala, as well as from each of the new destinations to points across the airlines' growing network.
The new services would allow Gambia Bird to double the number of connections previously offered, with 25 connections each week from Dakar, 20 from Banjul, 20 from Freetown, 15 from Lagos and 18 from Monrovia; and the flights to the fourth new destination, Conakry, will be launched as soon as local conditions allow.
Announcing the new routes, Thomas Wazinski, Chief Executive Officer of Gambia Bird Airlines, said: "We are delighted to be launching these new services, and to be adding important new destinations across West Africa to our network.
"Our comfortable and reliable fleet of Airbus 319s will offer competitively-priced connections for both business and leisure passengers between Banjul, Bissau, Dakar, Douala, Lagos and other points within our network, and we look forward to welcoming customers on these new routes."
He added that there was growing demand for safe and reliable air travel between West Africa's major cities, saying they are confident these new routes would deliver increased choice and convenience for customers who want to take holidays within the region, visit friends and relatives or conduct business.
"Our comfortable aircraft cabins, excellent hospitality and punctual services have already raised the bar for airlines within West Africa," he said.
"The addition of Bissau, Douala and Lagos to our network offers a welcome increase in the availability of high quality travel across this vital and dynamic market."
Gambia Bird currently operates services from Banjul in The Gambia, to Accra in Ghana, Dakar in Senegal, Freetown in Sierra Leone, and Monrovia in Liberia, with further long haul services from Banjul to Barcelona and London, and from Freetown to London, he revealed.
He further revealed that Gambia Bird currently runs a fleet of Airbus 319-100s, which operate throughout its network and the airline is based in Banjul and is financially backed by the German Airline Group Germania.
Assan Salieu Cham, head global sales and marketing at the said airline, stated that Gambia Bird Airways Ltd is a West African airline which began operations in 2012.
Headquartered in Banjul, The Gambia, Gambia Bird enjoys the financial backing of German Airline Group Germania, whilst also reflecting on all the warmth and vitality that West Africa has to offer, he added.
Under the leadership of Chief Executive Officer, Thomas Wazinski, the airline now flies to nine destinations across West Africa and also operates routes from Banjul to London and Barcelona and from Freetown to London, he said.
More new destinations within West Africa and Europe will be announced as Gambia Bird continues to expand and meet increasing demand within the region for safe, reliable and punctual air travel, he assured.
Read Other Articles In Article (Archive)