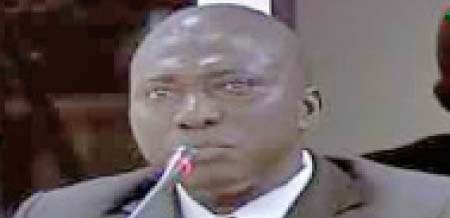 (Wednesday 23rd October 2019 Issue)
A senior medical officer at Serrekunda General Hospital, Tuesday testified before the Truth, Reconciliation and Reparations Commission (TRRC) on Sexual and Gender Based Violence (SGBV), indicating that Lesbianism and Gay practices are happening in the country.

Babanding Daffeh, said with regards to SGBV, the two practices are some of the major problems they face at the hospital.
Mr Daffeh, who is the Network of Gender-Based Violence focal person at Serrekunda General Hospital explained that they have a one stop center, which means having different services to help victims of sexual and gender based violence.
He testified that the one stop Centre comprises the Nurses, Lawyers and social workers, saying following their conduction of the necessary tests and issuance of medication, they prepare medical reports which are at times used in the Courts. He said there are up to four types of FGM.
"The most common form performed in The Gambia involves the sealing because many girls who are newly married had to go back to the hospital because their husbands finds it difficult to penetrate. The complications also involve pain, bleeding and even death, especially if the woman did not arrive at the hospital on time. There can also be sexual distinction."
Apart from rape and FGM, Mr Daffeh explained that there are practices of wife battering and domestic violence; adding that in 2014, he received 46 cases out of which rape formed the majority, and in 2016, he received about 70 sexual violence cases out of which again rape was the highest.
He said a case that happened in 2014 involving an 11-year-old child and the victim was sentenced to 15 years in prison in 2019; adding that the prolonging of case had shown a problem in our judicial system.
Mr Daffeh added that a 6-year-old victim was also raped around Younnam, saying it is unfortunate that there are no DNA tests in The Gambia.
He also said it was high time for Gambia to have DNA facilities which he said is important for both the victim and the perpetrator because it at times help to vindicate the perpetrator.
He continued that the issue of rape is not usually reported on time and it is difficult to discover sperm or injuries in the vagina after 72 hours. "Reporting early to the hospital is a challenge for us."
However, he explained that they are constrainted with some logistics at both medical facilities and Police Stations, saying that is posing serious challenge and might lead to lose of evidences. He said he only received 4 male sexual violence cases since 2004, noting that Women and girls are the most vulnerable.
On whether there are women who were more prone to SGBV, he said children from the age of 5-12 are the most vulnerable; adding that it happened in all sectoral society involving Imams, teachers, and security personnel among others.
"Women bleeding while unconscious may be a cause of torture but if such intercourse is done when a woman is not prepared may lead to so many things because she wasn't prepared."
He said among the 14 girls she inspected, one of them was HIV/AIDS positive while the 13 were negative; adding that Lesbianism and Gay is something happening in the country.
Another challenge he highlighted was the culture of silence and naive attitude, saying these are contributing to SGBV. "Between 2010-2018, there was a survey by Gambia Bureau of Statics and 75% supported FGM. More sensitization is needed to be done."
From Medical perspective, he said the challenges involved investigation because some of the services are not available. "The medical staff should be empowered to examine the perpetrator."
He said if there were more sensitizations and awareness, more SGBV cases would be reported.
He recommended that to run an office fighting SGBV, funding is fundamental and government should take ownership of the process and fund the activities of SGBV, provide enough training for medical personnel and create more awareness which he said if done may help in eradicating SGBV. "Government should have a centre for Victims as well."
Mr. Daffeh further recommended that the legal side needs to be looked at, to fast track SGBV cases. "The Judicial System needs to be look into and MOJ should partner with the Network against Gender Based Violence."
In his concluding remarks, he thanked the Commission and his colleagues in the fight against Gender Based Violence. He said children need to be protected. "We need to see how best we tackle SGBV especially in schools and the curriculum on SGBV should be introduced and a sense of nationalism."
He said is possible to eradicate SGBV provided that actions are louder than voices. He urged Gambians to be tolerant, carry each other and embrace each other as Gambians and avoid violence.
Read Other Articles In Article (Archive)