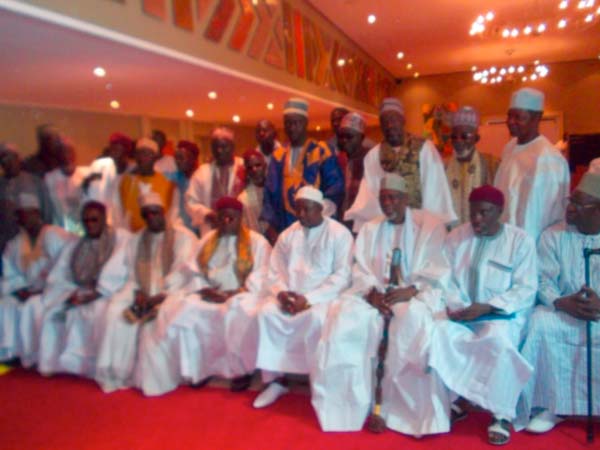 The diverse religious leaders Thursday paid a courtesy call on President-elect Adama Barrow, at the Kairaba Beach Hotel.

Speaking on the visit, Muhammeh Lamin Nyassi congratulated President-elect Barrow on his victory and wished him well in his endeavour.
He said Barrow's winning the election was a decision by God and nobody could change it as the people have already spoken.
Also speaking were Muhammeh Basiru Nyassi and Imam Muctacar Kah, who both thanked and congratulated President-elect Barrow on his victory.
They said The Gambia is a small country, hence they "are very optimistic" that Barrow's government would continue to make Gambia great in various ways.
"The Gambia is the only country in the sub-region that can brag about its peace and hospitality," they said, adding that Gambians should be thankful for that and should still continue to pray for peace to prevail in the country.
In his response, President-elect Barrow thanked the religious leaders for their support and for sparing their time to pay a courtesy call on him.
He said that something great and remarkable had taken place in The Gambia, as demonstrated by the people's unanimous will and support for a change of government that has ruled for 22 years.
"The people have decided this time, and it should be respected," President-elect Barrow continued, saying such a resolute stance by the Gambian people had shown that power belongs to the people.
He sees himself as a servant of the people; hence he should listen to them, work with them, learn from them, and serve them well.
Barrow assured the people that democracy would be restored in The Gambia, and the voices of the people, especially the voiceless, would be heard.
He said a change of government, from time to time, is a very good thing; because that helps a country to go from height to height with transformation development, and a sitting government to do well.
He urged the people to continue to pray since prayers make everything possible and easier to achieve.
He told the people that come January 19, he would be the legal president of The Gambia "In Sha Allah".
Read Other Articles In Article (Archive)