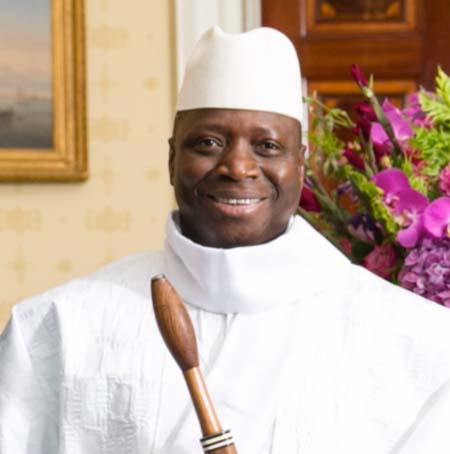 The incumbent president, Yahya Jammeh, has said Gambians should distinguish between progress and retrogression, saying "the unprecedented socio-economic development" ushered in by his government is enough for Gambians to make a choice.

Jammeh who entered the Central River Region (CRR) said his nationwide tour is not meant to campaign for votes, but it is a constitutional requirement.
He also reiterated the need to maintain peace and unity throughout the entire election process.
He emphasized that anyone caught perpetrating or insinuating any form of conflict would be dealt with accordingly.
President Jammeh, standing for the fifth time as candidate of his APRC party, called for a peaceful campaign and an election devoid of anything that could lead to chaos.
He said come 1 December 2016, people should go out in peace and cast their vote for a candidate of their choice.
He commended the people of CRR for their unity, and further called on them not to encourage tribalism, saying: "I am not asking anyone to hate anybody.
"We are all Gambians, we should respect one another, love one another; we should not allow politics to divide us. We are one family, so vote for your choice in peace," President Jammeh said.
According to a GRTS radio report, President Jammeh, speaking yesterday in Kaur, further reiterated the need to maintain peace, law and order throughout the election campaign.
"I urge the people of CRR to refrain from violence as anyone caught perpetrating crime and social conflict will not be spared."
He also said he would not encourage the illegal migration of youths to Europe.
Read Other Articles In Article (Archive)