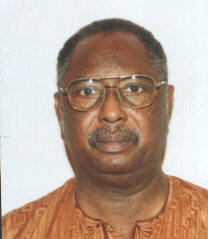 Human rights activists and defenders at the just-concluded NGOs forum have urged the African Commission to put pressure on the Gambia government to immediately reveal the whereabouts of missing journalist Chief Ebrima Manneh and to also conduct an independent and impartial enquiry into the murder of Deyda Hydara, co-founder and editor of The Point newspaper.
The call was contained in a joint resolution on freedom of expression, and protection of journalists in The Gambia, issued at the close on Monday of the three-day forum held at the Kairaba Beach Hotel.
Journalist Chief Ebrima Manneh, who worked with the Daily Observer, has not been seen for nearly six years now, since 7th July 2006 when he reportedly went missing.
The Media Foundation for West Africa (MFWA) recently filed a lawsuit against the government of The Gambia at the Community Court of Justice of the Economic Community of West African States (ECOWAS) on behalf of Ebrima Chief Manneh.
The court in a judgment stated that Chief Manneh be released immediately, and be paid US$ 100, 000 in compensation by the Gambian state.
However, the Gambia government has on several occasions denied knowing the whereabouts of Chief Ebrima Manneh.
In a one-page resolution, human rights activists also invited the African Commission to grant access to the Special Rapporteur on Freedom of Expression/ Access to Information in Africa to visit The Gambia and proceed on a fact-finding mission and dialogue with all stakeholders.
Participants at the forum also invited the African Commission to appeal to the Gambia government to urgently engage in a comprehensive media law reform, and to repeal all draconian laws, especially the criminal defamation, false news and sedition provisions to comply with the Declaration of Principles on Freedom of Expression in Africa.
They noted what they said was the appalling lack of space for free expression, increase threat and repression against journalists and human rights defenders in the country, despite being the host of the primarily human rights monitoring body in Africa, the ACHPR.
Participants also noted with grave concern that "the Gambia government continues to restrict unduly freedom of expression and access to information in the country, through an outdated legal framework and subordinated judicial system that fails to meet minimum international applicable standards."
Noting the recurrent use of criminal sanctions to prosecute journalists and human rights defenders, especially the law on sedition, treason, and false news, the participants also expressed concern over the blocking of many online media and information websites, denying thereby alternative sources of information to the Gambian public.
Read Other Articles In Article (Archive)