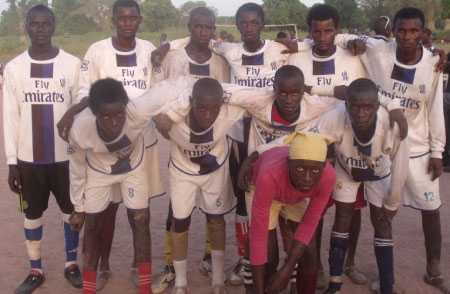 Exactly four days before their crucial match against Nioro Jatta in the opening fixtures of this year's District Football Tournament, Kiang Jiffarong Village Football Team in the Lower River Region has fixed today for a friendly game against Raptim Academy of Fajikunda.
The test match, according to Jerreh Kinteh, trainer of Jiffarong FC, is expected to serve as a preparatory program for the big tournament scheduled to kick off today between Niorro Jatta and Wudeba in Sankandi, LRR.
The team that included a good number of unrecognized talents ready to fly high have since last week begun preparatory efforts in the build up to the tournament under the guidance of Jerreh Kinteh at the Buffa Zone Training Centre in Fajikunda.
They (Jiffarong FC) have since the commencement of their preparations taken part in two test matches, the best of which was their clash with Young Academy of Gambian international Ebrima Sohna, only to be narrowly beaten 1-nil at stoppage time.
Despite the setback, the performance was met with great satisfaction by a teaming number of the team's followers, who travelled to the Buffer Zone Training Centre to watch the boys in action, as well as the coaching staff who were absolutely delighted with the determination of the current set up.
They are confident that the team that comprises great talents like solid defender Musa Drammeh, skillful forward Sarjo Kaddy Barrow, promising midfield sensation Bakary Koyo Drammeh and the impressive Pa Modou Barrow can achieve the desire results, but only if they are given maximum encouragement and motivation to push forward.
However, Raptim Academy can boast of producing a good number of well-established players plying their trade in one of the leading Nawettan centres, particularly Serekunda Central which is be considered the firm favorites to win the contest if their current good run of fine form is anything to go by.
But whether they would be able to penetrate the solid defensive set up of Jiffarong FC, led by the young centre back Musa Drammeh, remains to be seen.
Read Other Articles In Article (Archive)