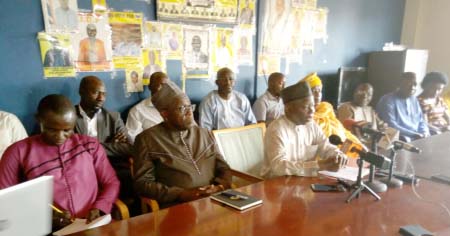 Ousainou Darboe, Secretary General and leader of the United Democratic Party (UDP) has called on President Adama Barrow to be faithful and respect the Coalition 2016 agreement that brought him to office in the 2016 presidential election.

"UDP urges all the parties to the 2016 coalition agreement particularly its principal beneficiary, President Adama Barrow to be faithful to the terms and conditions of the 2016 coalition agreement and fulfil his promise to The Gambian electorates that if elected he will serve for a term of three years only and step down to supervise free, fair and transparent presidential elections."
Speaking Wednesday morning at a press conference at the UDP headquarters in Manjai, Mr Darboe said all the terms and conditions that brought in the 2016 coalition must be respected.
He emphatically made it clear that UDP is not calling on any of its members to protest, but they are asking President Barrow to be faithful to the 2016 agreement that led to his election as president of The Gambia.
"We're asking Barrow to fulfil the promises he made to the Gambian electorates. We're not asking anyone to go out and protest. We UDP don't believe we should ask anyone to go and protest."
On the issue of 3 years Jotna, he said it has some ramifications, hence he can't say he is in agreement with them. "President Adama Barrow needs to be faithful and agree on what was agreed during the formation of the 2016 coalition. UDP certainly is not coming out to support 3 years Jotna. We are just calling on Barrow to fulfil the promise he made to Gambian people."
He said if there is going to be a protest, UDP will have to consider all the conditions of the 2016 coalition agreement and the party has to meet and decide whether it is necessary to go out to protest or not. "However, as of now, we don't think that we will go out to protest. We will leave that to President Barrow and that his conscience should guide his action."
Given the sequential nature of the commitments, Mr Darboe said there is substantial performance of the coalition 2016 agreement by the parties and there are no reasons to fail or refuse to perform the fourth and last condition that is the candidate of the coalition 2016 would resign after the end of his three years transition.
Mr Darboe also stated that the promises President Barrow made to the electorate were more important than even the 2016 agreement. "Three years Jotna is campaigning for Barrow to step-down but we at UDP are calling on Barrow to be faithful and respect the 2016 agreement, hence the party stance and that of 3 years Jotna are quite different."
He said if Barrow refuses to leave at the end of his three years terms, then they will tell him that he is not a man of honour and that he doesn't deserve a second term. "Even if he agrees to step-down at the end of the three years term, we will bring back the statements he made to him and tell Gambian people whether they could trust someone again who promised to step-down and fail to do so."
Read Other Articles In Article (Archive)