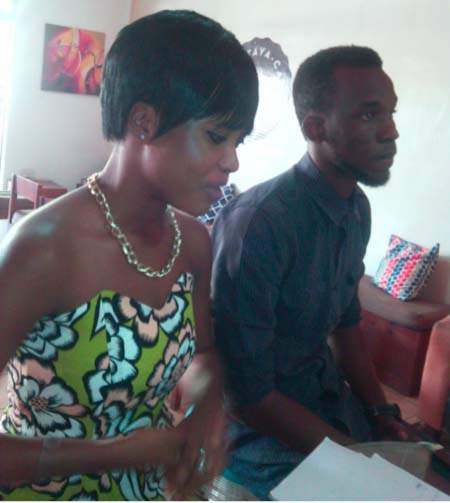 As more entertainment activities are happening around the Tourism Development Area (TDA), Damia for Kids has completed all preparations to gather more than 15 kids, come 25 February, at the SeaView Hotel to showcase the talent of those kids.

The event will also go along with the launching of a mixed-tape.
Speaking to journalists at a press conference on Wednesday at Café Restaurant opposite the American Embassy, Awa Drammeh, CEO of Damia and the brain behind the event, said the purpose of the event is to do an auditioning for the kids
Miss Drammeh told journalists that the reason why they came up with this idea is because of the love she has for the kids.
There is one thing that is lacking in the Gambian entertainment industry, which is a kids entertainment event which is here purposely to create different entertainment activities for kids.
"So, I came with this idea for having a fashion show for the kids," she said, adding that they do an auditioning for the kids and this is the first ever auditioning that they are doing for the kids.
It would take place on 25 February at SeaView Garden Hotel.
"The age is from 4 to 14 and the reason why I came up with this fashion show is because I love fashion and I believe that fashion is really a very big industry."
Drammeh also thank ICE Wonderland for coming to their support.
"I want to show the kids that they can be something in the future, and these kids are really amazing because, talking to you right now, I have so many kids that are really into this. They are waiting for the day to come to show people what they are capable of doing.
According to Pa Malick, ICE Wonderland, came forward to support Damia for Kids because as a business entity they do not believe only in making money, but alongside they believe in contributing their quota towards the success of any sector in The Gambia.
"We have seen variety of business entities in The Gambia, whose primary focus is to make money and then get away."
"ICE Wonderland is actually owned by a Gambian, and it is owned by a mother, a woman who is actually rallying behind young people and kids, " he added.
"When we talk about ICE Wonderland, the majority of customers you are going to see there are kids and the young. So obviously when she came with the proposal that she is coming up with a kids fashion show, we deemed it necessary that we have to come forward and support."
Read Other Articles In Article (Archive)