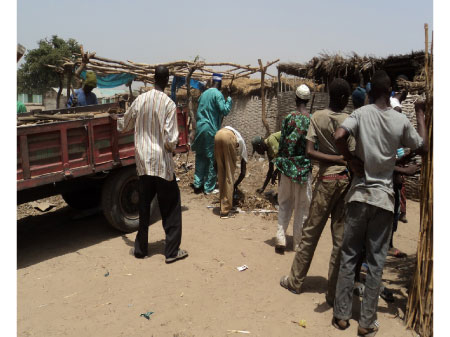 Communities of  Wassu, Janjanbureh, Brikamaba and Bansang in collaboration with members of the security forces, local authorities, youth groups and chef de garages, recently  embarked on a massive cleansing exercise in the streets, car-parks and public areas of Bansang, Wassu, Janjanbureh, Brikamaba and Janjanbureh simultaneously in Central River Region.
As part of the activity, some of the groups were concentrating on emptying the drainage system thanks to the support of Janjanbureh and Kuntaur Area councils for providing fuel for tractors to collect garbage to its final destination.
Speaking in an interview with The Point, CRR Regional Programme Officer for National Environment Agency, Fafanding Katire Kinteh, underscored the significance of the exercise.
Cleanliness is next to godliness, he said, adding that a healthy mind is found in a healthy body.
"This exercise was meant to reduce disaster vulnerabilities in the area as we are approaching the rainy season," he said. "All the participating volunteers are here to give support to alleviate suffering in serving people of the region."
While commending those who supported them in various ways in the success of the cleansing exercise, Mr Kinteh disclosed that the two councils have been very supportive in rendering humanitarian services to the communities, particularly when people are in difficult situation.
He observed that one of the reasons the exercise was successful was because prior to the exercise there had been series of radio sensitization programmes in Brikamaba and Bansang Community Radio to raise public awareness on the issue thanks to the support of Janjanbureh Area Council.
Kinteh added that more sensitization programmes are needed to raise the understanding of the public to be able to take part in such national causes for their own good.
For his part, Hon. Demba Sambou, National Assembly Member for Niani district, stated that the exercise is meant to promote the health of the people.
"Cleaning potential areas for mosquito breeding would definitely reduce the spread of malaria in the area," he said.
He also commended all those who took part in the exercise for their active participation, while urging other people to emulate them.
He appealed to shopkeepers and business operators in the area to improvise temporal dustbins to collect waste for onward dumping at allocated sites.
Janjanbureh Chief Seyfo Bakary Jam Jawo thanked participants for coming in their large numbers to partake in the cleansing exercise to ensure the town is kept clean and tidy.
Chef de garage of Bansang car-park, Mamudou Ngalan, expressed sentiments similar to those of the previous speakers and reiterated their readiness to supporting such initiatives.
According to him, the car-park is for everyone because it is a public place, which maintaining it clean and tidy tells well about the country's image.
Bansang Alkalo Kebba Kora said: "As a nation, we want to ensure that the people live in a clean environment in order to promote good health."
He also lamented on lack of cleansing materials, calling on the local authorities to come to their aid.
Read Other Articles In Article (Archive)