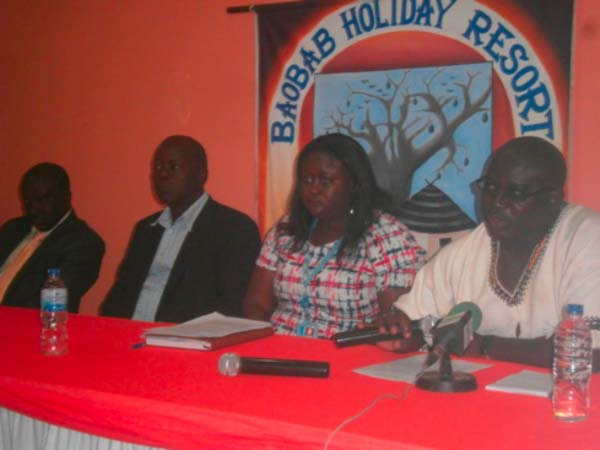 The Child Protection Alliance (CPA) in partnership with the Gambia Tourism Board and with support from ECPAT Netherlands Monday held a multi-sectoral training workshop for stakeholders in the tourism industry and child-related fields, on the prevention of child sex tourism at the Baobab Hotel.
Speaking at the opening ceremony, Njundu Drammeh, CPA national coordinator, said he knew people are there because children matter to them and are also deeply committed to the cause of children.
He knew that children being vulnerable are also often victims of abuse and exploitation, and they needed to ensure how they could work together.
Those in the industrial area, those working for children should work together to ensure that they strengthen the child protection environment for children, he said.
He added that the participants are from the department of social welfare, immigration, police, tourism security unit, taxi drivers association, and all the key players.
The workshop, Mr Drammeh continued, was to strengthen that partnership between them to have a goal, and their goal is to ensure that no child in The Gambia is a victim of abuse and exploitation.
Ousman Kebbeh, from the GT Board, said they are there to look at what particular mechanisms to put in place, and how they could plan together to make sure that they create a safe haven for the children.
He thanked CPA with other collaborators that are making sure that they have policies in place, and the funds to implement these policies.
They need the police to arrest, charge and give to the courts and they also expect the courts to convict the perpetrators, he said, adding that they must set an example on those who create havoc by violating the rights of children.
Awa Joof, representing UNICEF, said the protection and promotion of the rights of children against violence, abuse and exploitation and neglect are the key component of UNICEF's work in The Gambia.
She said violence, especially sexual violence, affects children physically and mentally, and their ability to learn and socialize and it undermines their development into adults.
Therefore, she said, preventing violence and abuse is essential to ensuring children's rights to survival, growth and development into becoming responsible adults.
She added that the sexual exploitation and abuse of children is a reality that affects many spheres and sectors, further stating that one of the areas where sexual violence happens in The Gambia is in the tourism sector.
However, the menace of child sex tourism is not only a problem in The Gambia, but a global issue, she went on.
The Gambia is known worldwide as the Smiling Coast of Africa, and is a popular tourist destination with people travelling from various parts of the world to make use of the nice weather, friendly environment and the beautiful beaches.
"Each and every one of us takes our individual collective responsibility by being aware, reporting suspected cases to the relevant authorities and not turning a blind eye," she added.
Read Other Articles In Article (Archive)