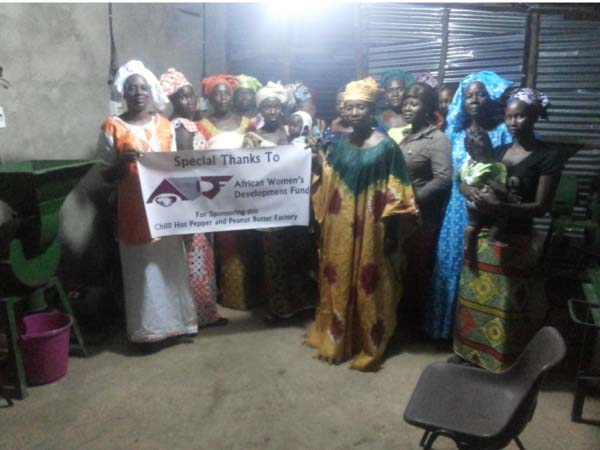 Concept Units Foundation (CUF) through the Hot Chilli Pepper and Peanut Butter Production Project funded by the African Women Development Fund (AWDF) would provide support to empower the local women with entrepreneurial skills, in a bid to improve their livelihood and curb poverty and household food insecurity.
The project "Hot Chilli Pepper and Peanut Butter Production" has already provided about ten machines that would be used to produce peanut butter and hot chilli pepper.
The project management team has already identified local women, Dego Boka Halat Women Associate of Kotu Quarry, who would undergo a series of training sessions on operational techniques and maintenance of the machines.
Mrs Maryam T. Adams, president of Concept Units Foundation, said at the meeting that this came as a result of the successful implementation of a previous project by the foundation.
According to her, CUF and the African Women Development Fund (AWDF) are partners in development supporting local initiatives in The Gambia, and for the past years they have been supporting activities and projects for women in Africa.
She further revealed that each year, her foundation embarked on a series of programmes and activities by training women in skills development and to promote the welfare of women and youths within the Kanifing Municipality
She urged the beneficiaries to make best use of the machines, and create a scheme to maintain the machines for the purpose of durability, and better improve the livelihood of the target beneficiaries.
Mrs Adams further urged the beneficiaries to remain united and steadfast in their quest to acquire the required skills and knowledge to be able to maintain themselves and their families.
Mrs Ida Mboob Joseph, project manager, said CUF is a non-profit local CBO operating in The Gambia that aims to empower women and girls in skills acquisition and the youths in the area of sports.
The Hot Chilli Pepper and Peanut Butter Production Project supported by African Women Development Fund (AWDF) would minimize unemployment constraints for women and girls (out of school) and measures are being put in place to sustain and expand the project from the proceeds.
Ms Mboob-Joseph said apart from projects that the foundation is implementing, CUF has initiated a tailoring workshop and a small mobile shop as support services to CUF's main project to generate income to support further the concept of the foundation.
Read Other Articles In Article (Archive)