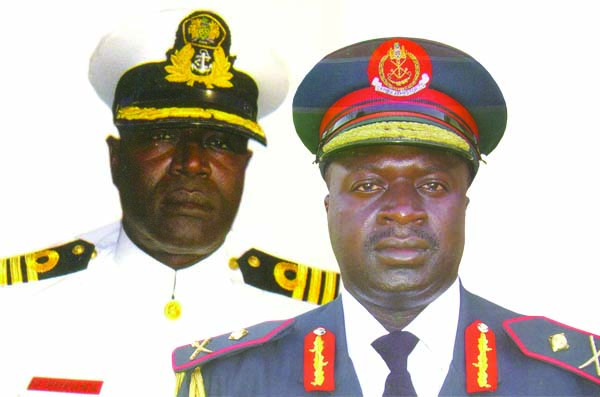 The trial on a four-count treasonable indictment of ex Chief of Defence Staff Lang Tombong Tamba and former Chief of Naval Staff Sajor Fofana failed to proceed at the Special Criminal Court in Banjul before Justice Ikpala on Monday.
The case was scheduled for hearing on Monday 16th August 2010, with the prosecution expected to call their next witness, after the testimony of the first prosecution witness, Major Momodou Alieu Bah.
However, neither the accused persons and their defence counsel, nor the trial judge, who was said to be out of the jurisdiction, were present in court.
Lang and Fofana are being tried in connection with the 21st March 2006 foiled coup plot said to have been masterminded by former Chief of Defence Staff Colonel Ndure Cham, who fled the country.
Readers could recall that Sajor Fofana, ex Chief of Naval Staff, was the president of the General Court Martial held at the Yumdum Barracks which tried officers and soldiers involved in the 2006 coup plot.
Those officers and soldiers were sentenced by the court martial to different terms of imprisonment, ranging from 10 years to life imprisonment.   
Readers would also recall that ex CDS Tamba was on 15th of July 2010 convicted and sentenced to death by Justice Emmanuel Amadi at the high court in Banjul after the court found him guilty for treason together with seven other men in connection with a 2009 coup plot.
Meanwhile, the trial of ex anti narcotics agency chief Ibrahim Bun Sanneh and four others also failed to proceed before Justice Emmanuel Amadi due to the illness of Bun Sanneh.
The prosecutor, SH Barkun, told the court that Bun Sanneh was still admitted at the hospital in Banjul, where he had undergone a cataract operation.
The case was then adjourned to 25th August 2010.
It would be recalled that Bun Sanneh and four others were arraigned by prosecutors before the high court, under a 30-count criminal indictment.
The charges include conspiracy to commit a felony, stealing by person in public service, aiding and abetting, unlawfully possession of fire arm, unlawfully possession of live ammunitions, concealment and destroying of evidence, official corruption, abuse of office and committing economic crimes, obtaining money by false pretence, making document without authority and forgery.
Read Other Articles In Article (Archive)