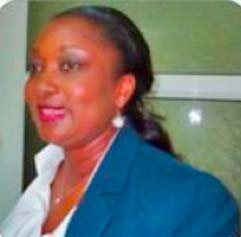 Ecobank Gambia Limited yesterday launched a bouquet of remittance products, which include WARI, RIA, Western Union and MoneyGram.
Speaking at the ceremony held at the bank's head office on Kairaba Avenue, Josephine Anan-Ankomah, managing director of Ecobank, said the bank always looks for new ways to make banking convenient and accessible to their customers.
She said, as a bank they recognise the importance of remittance not only to the Gambian economy, but also across the entire continent.
"Remittance plays a vital role in the development of our economy. I believe that this is what informs the decision as a bank to come out with a product - 'Ecobank rapid transfer' - which allows you whether you are in Angola, Zimbabwe, Malawi, Ghana to be able to transfer money in local currency from one country to another whether you an Ecobank customer or not."
Ebrima Jobe, head of Consumer Banking, said their rapid transfer platform remains peculiar to their brand, and its coverage extends to over 30 countries in Middle Africa, where Ecobank is present.
He explained that in their collective drive to make sending and receiving money easier across sub-Saharan Africa, they have recently partnered with JFIN Financial Services to expand the outreach.
He added that through this partnership they offer 20 other locations in addition to their 7 branches where this product could be accessed across the length and breadth of the country.
"At Ecobank, we are aware of the significant contribution of the remittance business to our economy," he said, adding: "Our commitment to ensuring that we remain relevant and sensitive to the needs of our customers remains unquestioned. Our partnership with reputable remittance service providers such as Western Union, MoneyGram, RIA and WARI is a living testimony of this."
He added that Ecobank is the only bank in the country that offers instant visa branded cards to their customers.
"Within the maximum of 24 hours of opening an account with them and "putting in a request, your visa branded card is delivered.
"This card could be used on all visa branded ATMs in The Gambia and across the world," he added.
Read Other Articles In Article (Archive)