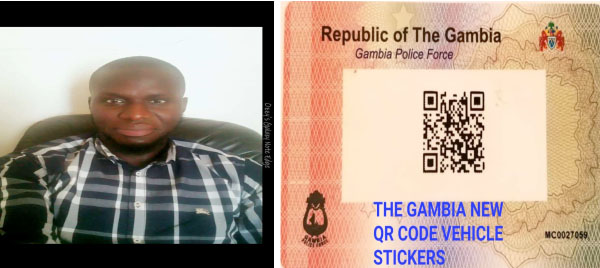 Recently, the Comfort Quality Services Ltd. introduced an Electronic Vehicle Management System for vehicles and motorcycles as it benefits the security aspects.

Meanwhile, the company clarified allegation made regarding the biding process and awarding of the contract awarded for the Aluminum Number Plate and QR Code after winning the bid of designing and selling of new Aluminum Number Plates, establishing a sophisticated Electrical Vehicle Management System.
The Electrical Vehicle Management System is in line with the number plate production and is designed to capture essential bank details required to initiate a transaction between a vehicle owner and the company.
It is also designed to capture essential vehicle details, as well as a vehicle owner and transaction agent details, database search capabilities, multi-layer data input, automatic number plate production, log all activities within the software operating environment and manages essential business accounting process among others.
Operations Manager Ousman Njai at the Comfort Quality Services, said as part of their requirement in the contract, they have supplied The Gambia Police Force with 100 scanners for traffic officers to use on their routine traffic checkpoints.
"Our Quick Response (QR) system will ensure that every vehicle and motorcycle roadworthy in the Gambia will have a QR sticker on their widescreen that will be loaded with vehicle and owner information. When scanned, it will reveal the information of the vehicle instantly on a handheld mobile device given to traffic officers," he said.
The Operations Manager said the QR will ensure routine traffic checks which can be carried out effectively by the police in their efforts to tackle vehicle theft and other vehicle-related crimes and incidents and also ensure number plates cannot be transferred from one vehicle to the other.
"With our joint efforts with the Gambia Police Force, we aim to ensure safe roads and eradicate reckless driving incidents by perpetrators with this electrical vehicle management system in place for accurate owner identification and vehicle details," he said.
Mr. Njai said the registration process of the new number plates starts with payment of D1100 for vehicles and D630 for motorcycles at any Trust Bank Branch across the country.
The receipt from the bank, along with the correct documentation is then presented at any of their offices in Banjul, Kairaba, Brikama, Basse and Farafenni for registration and number plate printing.
"We secured our Aluminum Number Plates with the highest of quality from a supplier; they are durable with 75% visibility in the dark and the number plates also come with a secured future which traffic police are aware of," he said.
He added that Comfort Quality Services has fulfilled every obligation on the contract with the production of high-quality Aluminum Number Plates, provision of 100 QR scanners and QR stickers which are currently on production.
Read Other Articles In Article (Archive)