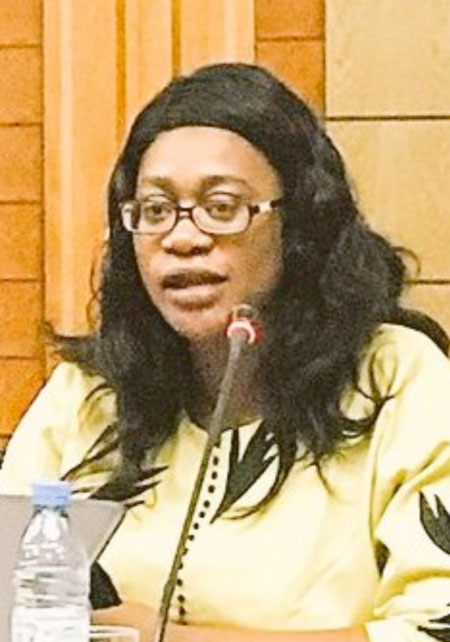 Ya Kumba Jaiteh, former nominated National Assembly Member whose nomination was revoked by President Adama Barrow last year has stated that hopes have now been restored in Gambia's judicial system, as the apex court declared her National Assembly nomination revocation unconstitutional.

"I am very much happy today. I think this is not a win for Ya Kumba Jaiteh, but this win is a win for the country and a win for our democracy as we all know this is a test case for the judiciary and our democracy. Therefore, all of us have seen how far we come as a new found democracy," she told journalists after the Supreme Court yesterday upheld a judgment in her favour over revocation of her National Assembly.
The Supreme Court justices headed by Chief Justice Hassan B. Jallow, yesterday declared that "The purported termination of nomination of Ya Kumba Jaiteh through an executive letter was unconstitutional, null and void."
The court also urged third defendant Foday Gassama to desist from presenting himself as a nominated member of the National Assembly anywhere.
"I want to thank everyone and special thanks go to my team of lawyers because they put excellent efforts to make sure that we win the case and they did so without asking me for anything. They did it for the country just like I did it for country."
"I want to thank the entire country because despite our party affiliation the entire Gambia has given me support through the case and this is a win for all of us and our democracy. I'm so excited. I have been confident at all time during this trial. In fact, this couldn't have been any other way because if they were to decide against this I don't know how they were going to reach to that."
Ms. Jaiteh expressed appreciation to the decision taken by the Supreme Court, saying: "I want to thank them for a job well-done and they have restored hopes in the judiciary. However, this is not the end of the work. We have to fight more in order to protect the new found democracy so that it can last forever in this country."
"My job as member of the parliament is always to serve my country as best I could, hence I will continue doing that when I go back to the parliament."
Read Other Articles In Article (Archive)